Warm weather, good company, and a great selection of bands is the perfect combination for a killer music festival. As the weather heats up and festival season kicks into full gear, it?s a great time to jump in the car and experience a new world of music. Here are five music festivals around the country that are definitely worth a road trip: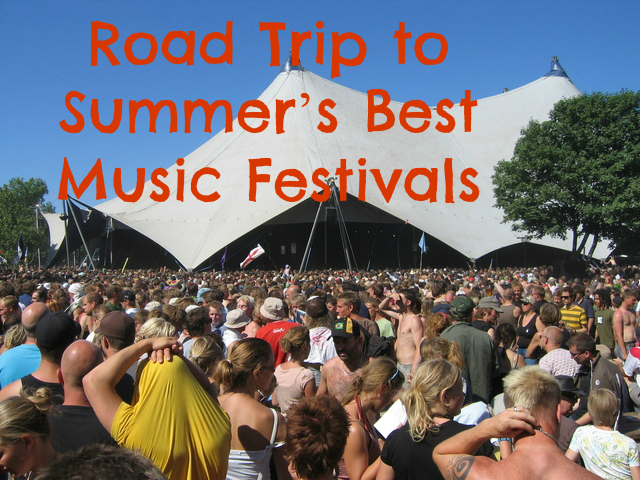 Road Trip to the Summer?s Best Music Festivals
iHeartCountry Festival, April 30
This one-day event brings together the hottest names in country music with some of tomorrow?s biggest stars, led by Florida Georgia Line and Keith Urban. Even though the festival is shorter than others, the music is still packed in, leaving you plenty of time to explore Austin.
New Orleans Jazz and Heritage Festival, April 22-May 1
One of the country?s longest-running music festivals, Jazz Fest is a celebration of all aspects of jazz culture?from the history and legends to new artists, goods, and food. This year, the festival is headlined by Stevie Wonder, Pearl Jam, and Red Hot Chili Peppers, with dozens of other acts scheduled to perform. At Jazz Fest you get a chance to truly experience New Orleans, from great music and food to exhibits and vendors from around the country.
Hangout Music Fest, May 20-22
In its seventh year, Hangout Fest brings the sound of the beach to thousands of festival-goers. Headlined by The Weeknd, Calvin Harris, Florence and the Machine, with nearly 100 other artists, this festival takes place on the shores of the Gulf of Mexico in Alabama for a great hangout feel that invites attendees to swim and play in the water as they please.
BottleRock Napa Valley, May 27-29
This festival brings together great music with great wine in the picturesque Napa Valley. Dozens of up-and-coming indie bands will play alongside headliners Stevie Wonder, Florence and the Machine, and Red Hot Chili Peppers, but one of the festival?s most unique features is the culinary stage, where celebrity chefs showcase their skills and best recipes.
Sasquatch Music Festival, May 27-30
Located in central Washington state, The Gorge is one of the most unique and beautiful concert venues in the country, with sweeping views of the Columbia River Basin. The diverse lineup is led by The Cure and Florence and the Machine. If you come to Sasquatch, be prepared to camp in one of the many campgrounds?it?s an essential part of the festival experience.
If you?re in the market for a new or pre-owned vehicle in the Belton, MO area, visit Landmark South dealership, our partners for this feature.?