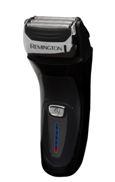 I recently received the Remington F-5790 Flex and Pivot Triple Foil Shaver for my husband to try.  Having used a safety razor all his life but being forced to switch to an electric razor recently  and being the great guy he is he gave it a try.
His initial reaction was "I MISS MY BLADE" but he quickly got over that and gave me his honest opinion.
Pros:
He loves the battery gauge to tell how much battery power is left
It's got a great run time of 60 minutes on one charge, enough for several good shaves
It fits nice in his hand
The quick battery charge or 5 minutes is great for times he forgets to recharge it
It's sturdy and well made
Quick and easy cleaning under running water
Cons:
Doesn't shave as close as shaving cream and a blade but as he pointed out he feels that way with all electric razors but this one is up there with the best of the ones he's tried in the past
He doesn't see any point to the pivoting head since for him it found one position and stayed there
All in all this is a good razor with a comfortable feel in the hand and on the face and if you're use to an electric or even trying one out for the first time the Remington F-5790 Flex and Pivot Triple Foul Shaver is one to consider.
It would make a great Father's Day Gift and the price is reasonable at $54.99.  Available at Target, Walmart and remingtonproducts.com