The kids are getting out of school for summer break and that is a good indication that summer vacations are on the way! Summertime screams vacation, warm weather, beaches and lots memorable times. However, not everyone has the budget to hop on a plane with you have a family of four or more. So in many cases Summer Break becomes the ultimate road trip opportunity. But before you pack your bags, there are a few things to think about first, especially if your vehicle is older than a few months old.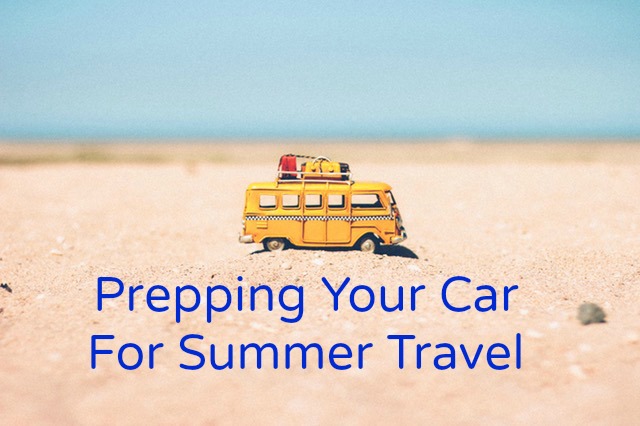 Preparing your car for the road is essential. The good news is that there are several things you can do to get your car ready. Here are just a few tips for the best mileage, keeping your car running its best, and ways make your trip a little safer.
Summer Vehicle Maintenance Checklist
Change your oil ? Have your oil changed before you head out on a road trip. There are several benefits to oil changes, including better engine performance, better MPG and less harmful emissions. The other big benefit is that regular (note that you have to do it consistently) oil changes can extend the life of your engine.
Check your fluids ? Oil is not the only fluid in your car. There are also lubricants, other fluids and windshield cleaner. A professional can do the job, or you can see how to check your vehicle?s fluids yourself.
Hoses and belts ? If it?s been awhile since you?ve had a full checkup done on your ride, take it in to your favorite mechanic for a thorough assessment. Have hoses and belts checked, and if they need replacing, better to do it before things get worse.
Brakes ? While you?re getting your hoses and belts checked, have your brakes checked too. Since brakes are one of your main safety features, it?s essential to have them checked as often as you change your oil. And if you don?t do either, it?s time to get in the habit and get on a regular car maintenance schedule.
Battery ? Make sure your battery is up for a road trip. Look for leaking, buildup or anything that looks off. Batteries are simple to replace, but if you?re not confident, take it to the shop.
Tires and tread ? Another essential part of your car is the tires. Tires, like oil, can affect MPG, but also can wear your car out faster if they are not properly aligned or filled. Most local tire centers will give your tires a check for free.