Have you ever been hit in the face with your own breath- or- someone you're really close with?? I think we've all had those moments.?It can happen at the worst possible moment,out of nowhere…and not a sexy look at ALL!!!.?So before heading out to a big soiree or meeting up with your beau, doing a triple check on your breath might be a good idea.
But thanks to? Dentyne?s new Split2Fit pack,? you too can have safe,? fresh, minty clean breath.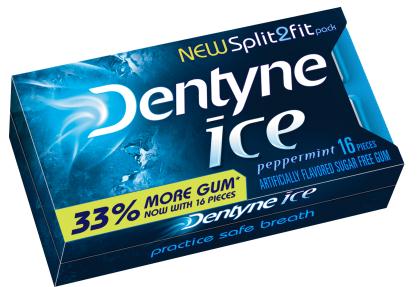 A recent survey commissioned by Wakefield Research called the?Dentyne Safe Breath Survey took a look?at some of the best and worst ?breath offenders?. The Safe Breath Survey examines the risks that 18 to 34-year-olds are taking with their breath, how preparedness factors into a successful social encounter and the rules of attraction when it comes to dating and breath.
DON'T BE CAUGHT OFF GUARD
Check out these statistics to see why taking care of that bad breath is important:
53% of Americans ages 18 to 34 have had an ?intimate moment? cut short because they were unprepared. While granny panties or white briefs can be a mood-killer, 76% say bad breath would be a more embarrassing end to an ?intimate moment? than unflattering underwear.

There are some things you can look past and still have a good date, such as sweaty palms (50%) or wrinkled clothes (47%). However, try to avoid the garlic mashed potatoes at dinner: 86% of those polled could not disregard bad breath on a first date.

Feeling good in your new pair of designer jeans? No matter what you?re wearing, 71% feel less confident meeting someone of the opposite sex if their breath isn?t fresh.

58% have lost interest in someone they were attracted to due to bad breath.?And that?s no smooching secret; charm alone can only get you so far ? 48% of women 18 to 34 would end a relationship with someone with consistently bad breath.

The truth hurts, and most aren?t ready to tell it to you straight ? especially when it comes to breath blunders. 85% of people think it would be harder to tell someone they have bad breath than tell them their zipper?s down.

Skinny jeans definitely have their drawbacks. 78% have sacrificed essentials during a night out to avoid carrying them, and nearly 1 in 4 (23%) have left gum at home because they didn?t want to carry it ? a rookie mistake.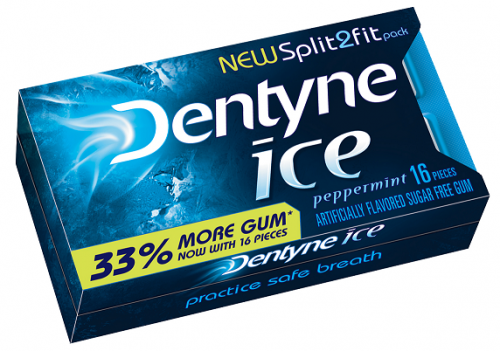 BAD BREATH CAN BE A THING OF THE PAST.?? With the introduction of the NEW Dentyne?Split2Fit Pack you no longer have to make the sacrifice of not being able to carry your gum around. The Dentyne?Split2Fit packs are sleeker and holds more gum than before.? You can split the pack into two smaller halves that are easier to slip in to close-fitting places like a shirt pocket, a clutch or those skinny jeans!?? They virtually fit almost anywhere. ?
Check out this tongue-in-cheek videos:
Are you practicing "SAFE BREATH"? ?
ENTER TO WIN A DENTYNE SAFE BREATH PRIZE PACK
One lucky reader will win a $25 Vis Gift Card and box of Dentyne gum (9 packages!) so you can practice Safe Breath all summer long.
To Enter Leave a comment telling me what you do to practice ?safe breath? ? OR ? share a bad breath story.
For extra entries you can use the Rafflecopter widget (below). You MUST complete the initial entry requirement or the extra entries will not qualify.
This giveaway is open to residents of U.S. only ages 18+. Winners will be contacted via email and have 48 hours to respond or a new winner will be selected! Cocktails with Mom is not responsible for prizes not fulfilled by the vendor.? Only one entry daily per household.