One of our family's favorite pasttimes is looking at holiday lights. If you are in the Barberton area, you won't want to miss these holiday lights in Ohio.
This post is sponsored by our brand partner in Ohio.  If you're in the area, consider Fred Martin Superstore for your automotive needs.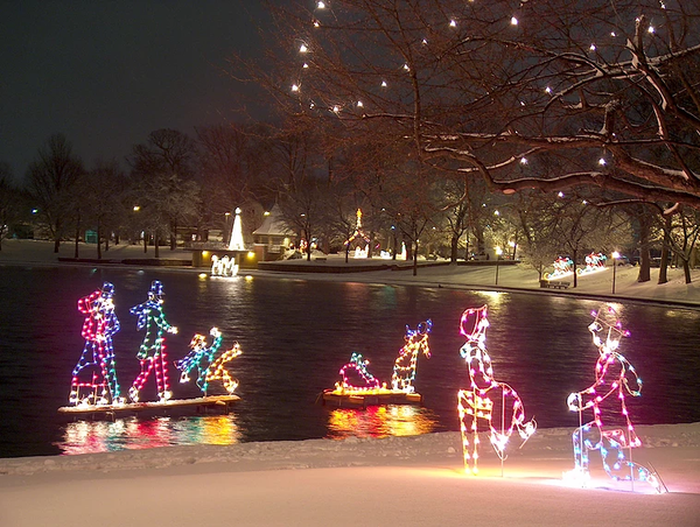 If you are near the area this holiday season, you won't want to miss the holiday lights in Lake Anna Park. Drive through the park from 5-8 p.m. from Thanksgiving to New Years Day and take advantage of photos with Santa, a light show set to music, costumed characters, live entertainment and more.
The lights will be on from 5-9 p.m. Sunday through Thursday evenings, and until 10 p.m. on Fridays, Saturdays and holidays. The display is free and is sponsored by the City of Barberton and the Barberton Community Foundation.
Lake Anna Park is located at 615 W. Park Avenue, between West Park and West Lake avenues.
While you are out sure to stop by Castle Noel, America's Largest Indoor Year Round Christmas Entertainment Attraction. Castle Noel features so many wonderful things to see and do. Housing the world's largest privately-owned collection of Hollywood Christmas movie props and costumes from your favorite Christmas movies including "The Grinch", "Elf"; "Santa Claus The Movie", "Fred Claus", "The Santa Clause 1, 2 & 3", "Jingle All The Way", "Christmas Carol", "Deck the Halls", and MORE. You can actually see the RV from the National Lampoons Christmas Vacation movie.
Sprinkled into the magic is the Blizzard Vortex, Santa's Chimney Squeeze, and 25' tall animated Christmas tree, It snows inside and you'll even get to ride a slide, just like Ralphie.
And make sure before you hit the road to take in all the fun holiday lights and Christmas experiences, you stop by Fred Martin Superstore to make sure your car is running in tip-top shape.