I have been blessed to try yet another awesome product that makes my life just that more simple. The product I was able to try is known as the Lay-n-Go light. I was curious as to how this would work and it was not hard to figure out. I work from home but we often take trips to restaurants and doctor offices. ?Having two sons makes it hard to carry their favorite toys with us to different places. My boys like cars and leggos and want to be able to carry those toys with us to various places.
The first time my son saw the Lay-n-Go he was so excited. For some reasons, it made him feel extra special while carrying his toys around as well. I don?t have to hear ?mom where is my toy? every five minutes because he has it with him. It has been an amazing addition to our little organizational spree.
Of course, this toy is not just for boy?s toys. There are a lot of different toys that are hard to clean up such as Barbie toys and baby doll accessories. With this Lay-n-Go I can tell you that cleaning up those little toys are a cinch. There is also the larger Lay-n-Go which makes clean up in a bigger area a lot easier. Clean up doesn?t have to be so frustrating anymore.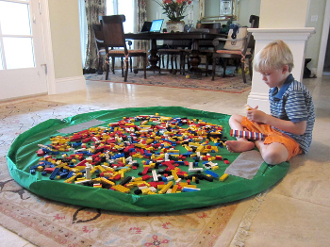 Here is a little more detailed information from the company?s owner.
The Lay-n-Go is a smart activity?mat, cleanup, storage, and carry-all solution in one!

This 5-foot activity?mat?converts into an easily transportable shoulder satchel allowing for effortless clean-up of small toy pieces. Unlike storage bins and baskets, kids don?t have to dump out items to find what they?re looking for? just open the Lay-n-Go to see the toys spread out and ready for?play.

Once playtime is over, the drawstring is pulled and the activity?mat?is converted into a completely sealed soft storage bag.

This unique system is also available in a mini size: The Lay-n-Go Lite is ideal for day trips, travel, restaurants, the beach- you name it.
I love this product mostly because she is a fellow mom just trying to make the world a better place. You can learn more about this product and how it can make your life a little easier by visiting the Lay-n-Go website. Make sure to check out all of the different TV shows that the mom inventor has been featured on. Sit back and let organization come right to your front door!
Make sure to check this fabulous product out on Facebook.?