Finding ways to keep a few extra dollars in my pocket always make me happy, especially when it comes to saving money on everyday products and brands that I already use. So when I come across a great deal, I'm always eager to share it with my readers.
I already use Tide and Bounce dryer sheets so it's always nice to catch a special deal on these. Starting tomorrow, from 6/24/12 to 6/30/12, Procter & Gamble and Kmart are  offering a FREE Bounce 40 ct. with purchase of Tide 75 oz. (Up to $2.99 value).  Tide 75 oz. liquid detergent will be on sale for $8.97.   Limit (1) FREE per transaction. While supplies last.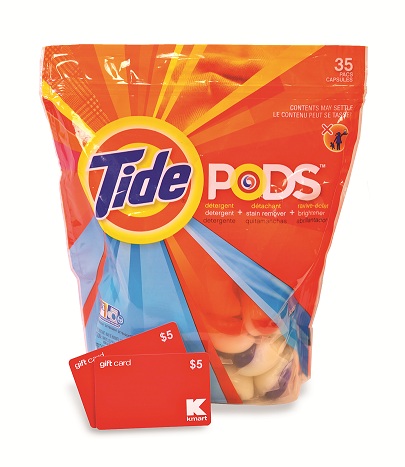 This is a pretty good deal and I figure, why spend more money on things than we have to, right?
I bet these would be really convenient for those who have to visit the laundromat to do their laundry.  They would definitely eliminate the need to lug around a heavy container and even measuring out the detergent.
Have you tried the new Tide Pods yet?  I haven't yet, but I plan on heading over to Kmart soon so that I can give them a try.
To give you a chance to try the Tide Pods yourself, I have $10 in Kmart gift cards (two $5 gift cards) and a Tide Pods (35 count) to give to a lucky reader.
THE GIVEAWAY:
One (1) winner will receive a P&G/Kmart prize pack that consists of: $10 worth of Kmart gift cards and Tide Pods 35 ct. You will be able to take advantage of the FREE Bounce offer with your gift cards!
Disclosure: Procter & Gamble provided the prize for my consideration, as well as the giveaway prize provided as part of the promotion. All thoughts and opinions expressed are my own.