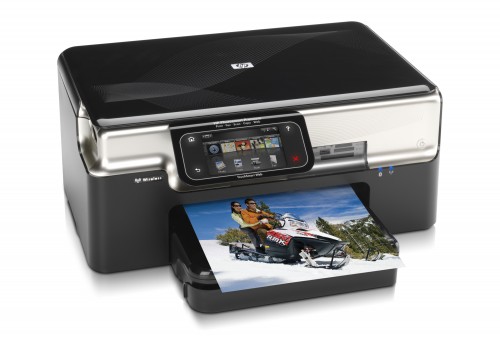 Searching for a multi-functioning printer has been on my agenda for some time now, so I was happy when I got the?chance to review the HP Photosmart Premium with Touchsmart Web just recently.? Prior to reviewing the Photosmart,?you could not have told me that a new printer would bring such excitement to a household.??The fellas were just excited and I was a bit giddy myself.??
As a family of four,? having a reliable and?well?functioning printer is a must to stay on?top of all the school?and?business work we have . Lets just say my last printer gave me some issues.? So?having one that actually works and works well is a big plus for?me.? Needless to say, this printer makes me happy and it is very drool worthy.?
About the HP Photosmart:?
?The HP Photosmart Premium withTouchSmart Web is the first web-connected printer that offers one-touch, wireless, on-demand access utilizing an extra large LCD touch screen.??The Photosmart control panel conveniently connects users to the Web via pre-loaded HP apps.
Print Apps are special print applications available exclusively to HP TouchSmart Web-enabled printers which connects your printer and the Web together with no PC needed.? Part of an entirely new Web-based printing platform, these apps enable easy printing of maps, coupons, movie tickets, recipes and more from partners including Disney, CBS Interactive, Google, DreamWorks Animation, Fandango and Coupons.com, among others.
Users can also connect to Snapfish and the HP Creative Studio directly from the HP Photosmart Premium with TouchSmart Web, which saves time and enables customers to archive or print photos and projects like never before? just touch, print and go.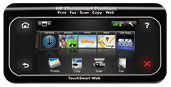 ?
There are quite a few things I love about the HP Photosmart Premium.? Below I've listed?some of the things I really really?like about the Photosmart,?some I like a little and then the ones I?m head over heels for.? But just to be fair , I've also included some things?I think could use some improvement.
THE?GOOD:
Wireless ? ??The best thing ever! I just love the wireless feature of this printer.??While doing my research on online, a wireless feature was on top of the list.? Having a wireless setup gives me the option of placing?it anywhere in my home office and free up space on my already cluttered desk.? We?ve found the perfect location for it that would not have been possible?without this feature.?
Speed Plus Quality: Who says I cannot have both? ? Not knowing what to expect?in regards to the printing speed , I was?pleasantly surprised to learn that it is "FAST."? ?The pages print extremely fast?and has?"GREAT " print quality.?? I get to enjoy a really great print quality at a really fast pace.?????
Two separate paper trays – I like that there are two separate trays. There?s one for regular paper and one for photo paper which makes alternating between projects so much easier.
Printing Options:? As with anything, you know I like options.? With the HP Photosmart you get quite a few printing options. You get two-sided (duplex)printing, a fast/economical print and paper-saving printing.
Web Feature:? Now this feature is a hit with the entire family but we all love it for various reasons.? You can print coupons, movie tickets, coloring pages, maps and more directly from the printer without having to turn on the computer. Now, what?s not to love about that!
Separate Ink Cartridges:??Conserves ink nd save money.??Replace each cartridge individually when it runs out.
The Not So Good:
None really, but if I? just had? note a few?I?would have to say:
No document feed tray for multi-page copies and faxes- I guess I'm?just accustomed to?having?the multi page capability when faxing or copying multiple pages.? This is a minor issue for me?and would not me keep me from purchasing a unit?in the future.?
On occasion after I?ve completed a task, the printer seems to still be going through the motions and I find myself taking a second peek to make sure my job is complete.? Again minor, nothing a little getting used to won?t fix.
Overall, my impression of the HP Photosmart is a good one.? I was impressed with the printer right out of the box.? HP?s commitment to reduce wasteful packaging was evident.? The printer came wrapped in a reusable tote bag that I was able to easily lift out of the box without a fuss.? The accessories were also packed in a nice re-useable pouch that comes in handy for storing the extra wires and accessories. ?I can?t say enough about the presentation as it gave off a great first impression.
I would definitely reccomend the?HP Photosmart Premium with Touchsmart Web.
For more details and purchasing information, please visit ?the? HP Website?to find out more.
Suggested Retail Price: $399.99
Disclosure: I was provided with?an HP Photosmart Premium TouchSmart All-in-One Web Printer for review purposes. There were no promises of a positive review and the opinions included in this post are mine.