Hydroplaning is the term that refers to your car sliding and skidding across a wet surface. This happens when your tires hit more water than they can scatter. Water will then push itself in between your tires and the road causing your tires to literally be just above the road surface rather than connected to it. Hydroplaning can be a scary experience for anyone. While hydroplaning can be dangerous, there are ways you can work to handle your car when this occurs.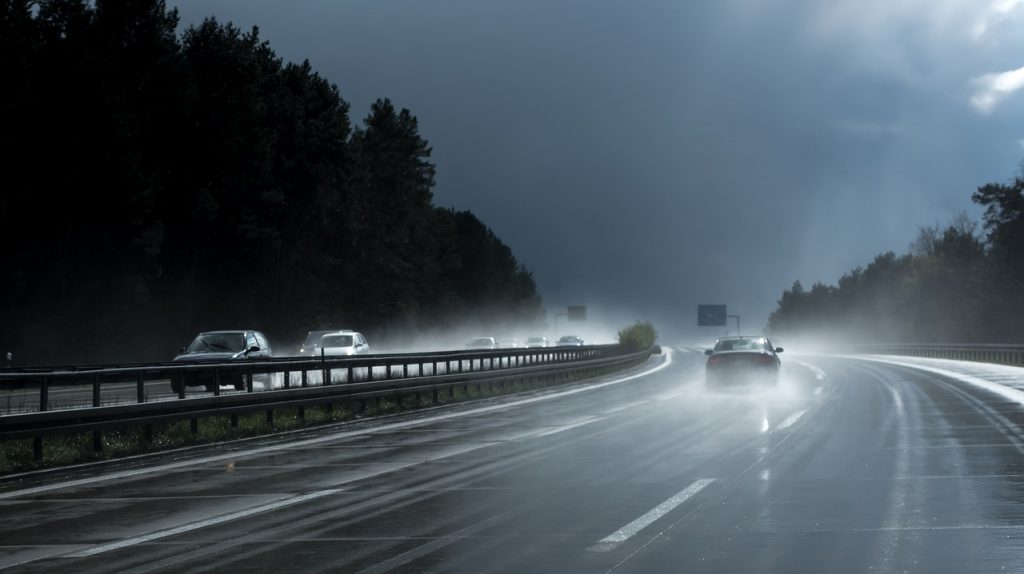 How to Handle your Car When Hydroplaning
Don?t Panic
It?s easy to get nervous during hydroplaning. You will feel like you have no control over your car, the tires will be floating above water and your natural instinct will be to panic. If you know that hydroplaning occurs during rainstorms, then you should always be prepared to follow these steps to handle your car when hydroplaning. This will keep you from panicking.
Reduce your Speed
It?s difficult for a car to hydroplane at speeds below 35 miles per hour. Try to go slower during any rainstorm to avoid the chance of your tires hydroplaning. If you?re already hydroplaning, then don?t accelerate to a higher speed as this will cause more damage. Your car is already out of control, so you can reduce speed by taking your feet off of the gas pedal immediately.
Turn your Wheel
The next step is to turn your steering wheel in the direction that your hydroplaning vehicle is going. This works to help your tires realign properly and while they won?t gain traction to the road right away, at least you?ll get a little more control over your vehicle again. Turn your wheel gently in the direction that you feel that pull taking your car.
Wait for Tires to Reconnect
This isn?t easy to do if you?re on a busy roadway, but do your best to steer with the hydroplaning tires while keeping your foot off both the gas and brakes. You will feel when your tires reconnect to the road. This will feel like you have traction again, you can now brake and pull over to the side of the road to catch your breath from experiencing hydroplaning.
Keep your Eye on Traffic
Be sure to keep your eyes out for oncoming traffic and any other cars behind you during your hydroplaning experience. You?ll want to use the above tips to regain control of your vehicle while also maintaining the safety of other people on the road. Hydroplaning is not something you can control completely but you can make it a little safer when you refrain from panicking and use these tips.
Hydroplaning is not a fun experience and it can be quite scary to even the most experienced of drivers. Try your best to keep these tips in mind when you feel your tires have disconnected from the road during a rainstorm. You will be able to work with your vehicle using these tips to handle your car when hydroplaning and arrive safely at your destination.