The living room is the nexus of a home.  It is where the family spends most of their time together in the pursuit of both interaction and entertainment.  It is the space where your guests are welcomed and asked to sit.  In short, it is probably the most used room in the house.  As such, you want it to be comfortable, beautiful, and inviting so that everyone who enters feels relaxed, happy, and as though they have come home.  But it's not always so easy to achieve the look you want within a limited budget.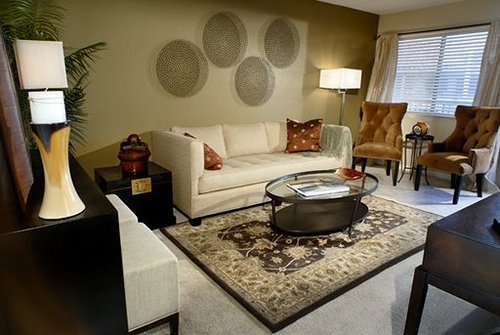 Redecorating this pivotal room can quickly turn into a nightmare if you get halfway through and realize you're out of cash.  However, there are plenty of ways to save so that you can have the fabulous living room of your dreams.  Here are just a few ways to make it happen for less.
Paint.  This is the least expensive way to change the look of any room in your house.  Although you could easily drop a few hundred bucks on a professional paint crew, this is one area that you can definitely embrace a DIY mentality and save a ton.  So when you go to get the paint, there are a couple of things to think about.  One is the size of the room.  If it is large, you should consider painting a neutral tone all around (if it's already neutral, you won't need much paint to cover) with one accent wall in a color of your choice.  And when it comes to bright, dark, or saturated colors, skip the primer; go for a primer/paint combo that only requires 1-2 coats.  You'll save money and time.
Flooring.  Carpeting is generally the cheapest option, and it will be even less if you go with a remnant and install it yourself.  But if the carpet you have is in good condition, or you simply can't afford new flooring, then just rent a steam cleaner (available at your local grocer or hardware store) and go to town.  If you do have a budget for flooring, you might want to consider 120x19mm solid prefinished flooring or reclaimed hardwood, which looks amazing at a fraction of the cost  (bonus: no additional deforestation required).  Laminate is also a good option, especially since it tends to come with a warranty.
Furnishings.  Reclaimed is the name of the game, but that doesn't mean you have to pick through thrift-store throwaways (although you may be surprised what you can find).  Think about using Craigslist to find good deals on practically new items or frequent estate sales for higher-end merchandise at a steeply discounted price.
Accessories.  This is another area where second-hand and DIY can do the trick.  If you need some frames for family photos, pick up a few on the cheap at a thrift store or yard sale and spice them up with some metallic spray paint.  Or find a retro lamp base and buy a new shade for it (with a glue gun and some beaded trim from the craft store, you can create an incredible look).  Candle holders, vases, and other knick-knacks can be had the same way.
Entertainment.  Of course you want the whole works (sound system, game station, etc.), but if your budget is tight, opt for the one item that everyone demands: a new TV.  Get rid of that energy-sucking tube TV you've had for years and replace it with a new flat-screen.  There are many options, but LCD TV reviews rate these beauties as the best choice.  They not only use 30-50% less energy than plasmas, the prices have also come down significantly.  Order online for huge discounts (check sites like Overstock and Tiger Direct for fantastic deals) and follow up by saving a ton on your utility bill.