The holidays are always a special time of year and are often filled with lots of good food and fun. Children who are stuck inside during this cold and snowy season have lots of downtime during the holiday break and love to be helpers. Pass the time and make some memories by getting them involved with your Christmas cooking with these easy to make, child friendly recipes.
Spiced Nuts
Nuts are a staple of the holiday season. Instead of just opening up a tin of cocktail peanuts and leaving it at that, take a few minutes and add some extras to jazz up your nut mixture. The great thing about this recipe, is that it is merely a starting point, feel free to play around with the ingredients, and flavours. Mix up your nut varieties; use your favourite spices etc. Your children will enjoy beating up the egg whites (you can step in and finish the whipping if their arms get tired) adding the spices, and stirring around the nuts.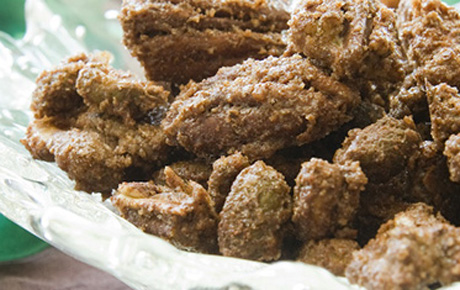 Ingredients:
1 package of your favourite single or mixed nut blend such as pecans, almonds and cashews.
1 egg white
1/3 cup of sugar
¼ tsp. cayenne pepper
1 tsp. cloves
1 tsp. black pepper
Zest of 1 lime
Directions:
Preheat your oven to 300 degrees.
In a medium bowl, beat the egg white until nice and foamy.
Stir in the sugar, spices and lime zest.
Add the nuts and toss until well coated – taste and adjust seasonings to taste if needed.
Pour onto a baking pan and bake for 15 minutes, remove and give the nut mixture a toss.
Lower oven to 250 degrees and return the nuts to bake for another 10 minutes or so.
Remove from oven, stir again and leave on baking sheet until cool.
Pumpkin Pie Dip
Pumpkin Pie is often served as dessert at Thanksgiving, but it is also a common Christmas sweet as well. Keep the pumpkin pie flavours going all throughout the holidays with this easy to make, no cook dip. Older children can make this all on their own (help them out with opening the can of pumpkin though), and then they can enjoy it with apples or other fruits as an easy and delicious afternoon snack.
Ingredients:
1 package of softened cream cheese (feel free to use either full or reduced fat versions)
2 cups of confectioners (icing) sugar
1 cup of canned pumpkin puree (you could use pumpkin pie filling if you want a sweeter dip)
1.5 tsp of pumpkin pie spice
Directions:
With a mixer or by hand, beat together the cream cheese and confectioners' sugar, until smooth.
Mix in the pumpkin puree and pumpkin pie spice until all combined.
Serve! – Store leftovers in the refrigerator
Pastry Parmesan Twists
These easy to make twists are a great addition to a holiday family dinner, or can be served during a cocktail party. Puff pastry is impressive, and used to take forever to make, but now you can pick up frozen sheets of it at almost any grocery store. You can get your children involved in grating and sprinkling on the cheese, and twisting the pastry is always their favourite part!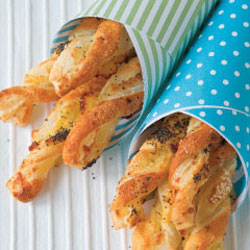 Ingredients:
1 package of puff pastry thawed
¾ cup of your favourite parmesan cheese, grated
¼ tsp. kosher salt
1/8 tsp. pepper
1 tbsp. sesame seeds (optional)
Directions:
Heat oven to 400 degrees, and line a baking sheet with parchment paper or aluminum foil.
Flour your work surface and unroll the sheet unthawed pastry.
Sprinkle the cheese, salt, pepper and sesame seeds (if using) over the pastry.
Using a knife cut approx. ½ inch strips through the pastry dough.
Twist the strips 2-3 times, then place on baking sheet a few inches apart, as they will puff up in the oven.
Bake until golden – approx. 12-15 minutes.
*Makes about 20 Twists.
Holiday Sherbet Punch

Punch is a retro classic that has recently become popular again. This holiday punch is colorful, delicious and alcohol free, so it's perfect for a children's holiday party (The grown-ups will love it too!). It's easy to make and you children can do it themselves. Kids are usually pretty excited to add the scoops of sherbet and watch the punch fizz!
Ingredients:
2 cans of frozen fruit punch mix (don't dilute)
2 litres of orange juice
2 litres of your preferred lemon-lime soda
1 package of fruit punch flavoured Kool-Aid
½ gallon of rainbow sherbet
1 package of frozen mixed berries (optional)
Directions:
Mix the first five ingredients together in a punch bowl, or other large serving vessel.
A few minutes before serving add the rainbow sherbet and watch it fizz.
If you want to keep the punch cooler for longer, without diluting the drinks, add the package of frozen mixed berries.
Serve and enjoy!
Eggnog Cookies

Eggnog is a quintessentially Christmas drink. Carry out the flavors of this delicious drink into your holiday baking with this easy to make cookie recipe. Cookies are always a great thing to make with children as there are so many things they can help with – the measuring, mixing, rolling and of course eating of the cookies! These cookies are always a hit, so consider making them if you are taking part in a cookie exchange.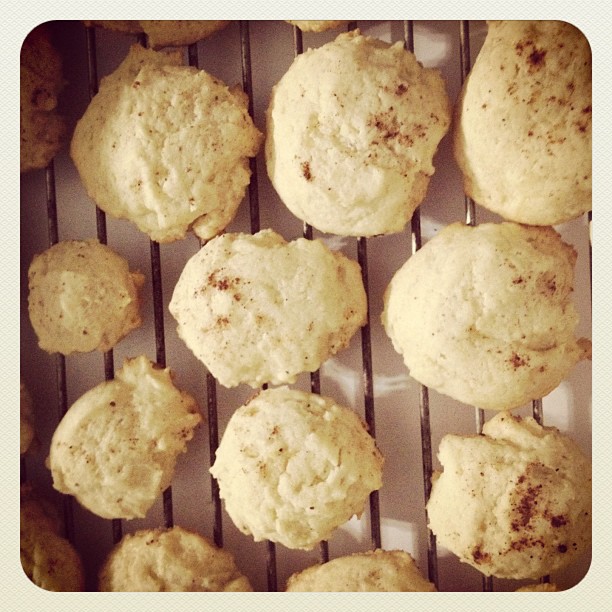 Ingredients:
2 ¼ cups of all purpose flour
1 tsp. baking powder
1 tsp. ground nutmeg + more for sprinkling
½ tsp. ground cinnamon
1 cup white sugar
¾ cup of softened, salted butter
1 tsp. vanilla extract
½ cup eggnog
2 egg yolks
Directions:
Heat oven to 325 degrees.
Line a baking sheet with parchment paper.
Mix flour, baking powder and spices together in a small bowl, and then set aside.
By hand or with a mixer, cream together the butter and sugar.
Add vanilla, eggnog and egg yolks into the creamed butter mixture. Mix until just incorporated.
Drop teaspoon sized balls of dough onto the cookie sheet, and sprinkle with nutmeg.
Bake until golden brown (approx. 14-18 minutes)
Remove from baking sheet to cooling rack.
Happy Holidays!
This article was written by Vanessa. When she's not working for PartSelect.ca, retailer of refrigerator parts, she can be found in her kitchen baking.
Photo Credits:
Cheese Twists
Spiced Nuts