Several weeks ago, I shared with you all the news of my fabulous new kitchen suite of Maytag appliances that I've been getting well acquainted with.  I do realize that to some of you, they are only appliances but to me and my family it is a lot more.  They are definitely an upgrade to write home about or in this case blog about.
One of my favorites in the bunch is the Maytag® Ice2O® French Door Refrigerator with Easy Access Drawer.  My previous refrigerator did not any special features, so the idea of having several with this new one is quite exciting.   The fridge overall accommodates a lot more than our previous fridge and is more spacious.  I no longer have to move things around to find out whats in there nor do I have to throw out foods that have gone bad because I didn't know they were there hidden behind other things. The multilevel shelves are perfect for allowing me to see what's actually in the fridge.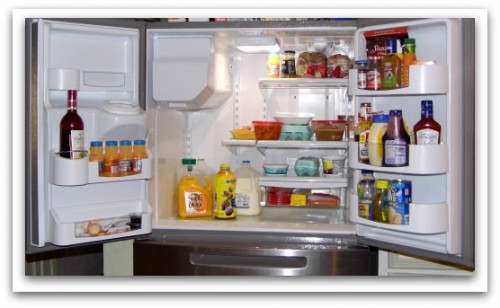 French Doors and Shelving:
I have never owned a fridge with french doors before so this concept is all new to me but the good news is that it is really growing on me.  The Maytag Ice20 French Door Refrigerator has four doors – two french doors, an Easy Access refrigerator drawer, and the freezer drawer.
I love the open feeling the french doors gives when both are open.  The spacious is incredible and organizations is a lot easier.  I don't like things cluttered so the extra roominess is a big plus.  Now that I have an organized layout of where things are placed, I can open both doors or just one depending on what it is I'm looking for.  The option of using one door versus two also saves on energy  which is always a plus.  This is an Energy-Star appliance also, so it's a win win.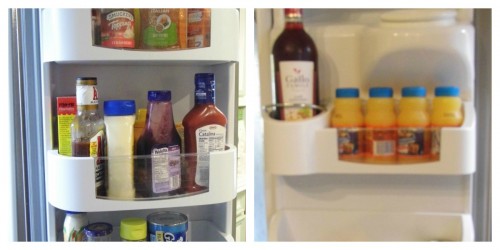 I love the fact that large jugs or gallons of milk can fit into the door but I don't use them there because I have too many condiment bottles that could better utilize that space.  I think the fridge offers ample shelving space but it doesn't they don't accommodate very tall bottles which would have been nice but I'm love having the ice maker/filtered water dispenser so I'm happy to make that compromise.  There are a few adjustments I had to make in regards to egg and butter storage but those things are minor and I accommodated for those things just fine.
 Easy Access Refrigerator Drawer
The Easy Access refrigerator drawer gets big kudos from both mom and the kiddos which has quickly become one of our favorite features.  The boys are growing and they seem to always be hungry or just looking for something to drink.  By placing their snacks, some fruit and drinks in this space, it really cuts down on having them just standing there with the entire refrigerator door open. The colas  however you see way way in the back is my bad habit that I'm trying to kick, but until then, I've found it a very convenient in storing my things as well.  So as you can see, we all are getting good use out it.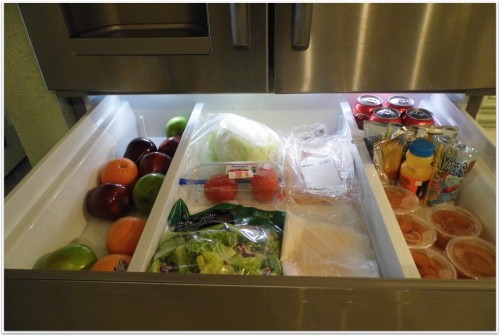 Overall, I find it very convenient and the built-in dividers are helpful in keeping things divided and well organized.  It also saves you on energy by not having to open the entire fridge when going to grab an after school or late night snack.
Ice Maker and Filtered Water:
What can I say?  I love having the option of an exterior ice and filtered water dispenser.  My old fridge didn't have this option so it's nice to have nice fresh filtered ice and water available at a  moment's notice.  Knowing that the water is filtered is very reassuring.  The refrigerator comes  a PUR® Hidden Water & Ice Filter that only requires changing twice a year.  And, if you're forgetful like me, the display above the ice maker/water dispenser will let you know when it's time to be changed.
Another cool feature, (especially since I'm trying to increase my water intake) is that the fridge's display also tells me exactly how many ounces of water are dispensed.   This is great and has allowed me to keep track of how much water I'm drinking each day. There is also the measured fill option that allows me to tell the fridge how many ounces I want with a simply push of a button.  If it's 8 ozs I want – it dispenses exactly that much and very accurately too.  It also gives you an option between crushed ice or regular cubed also with just the push of a button.'
Freezer Storage:
I can really appreciate the design of the freezer and the storage is amazing.  I've never had a bottom freezer before so this concept is new to me but I love it!   For me, it has become much easier to organize things with the the help of the dividers in the freezer.  Their is also an upper bin that can be pulled out for even more storage. I have been able to store ample amounts of items with no issue.  Before I would just shove things into the freezer but with the new fridge I am able to organize it much more efficiently.  The freezer also come with lighting so I'm loving that also.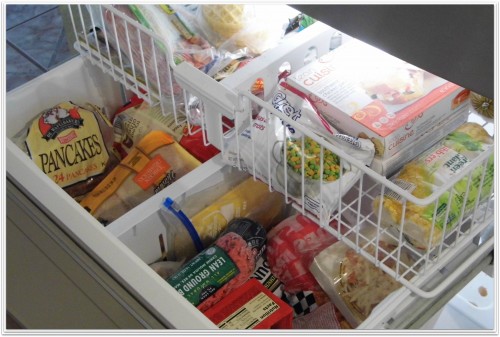 I'm learning that having  an organized fridge helps save time and in some cases money.  When things are organized it can really save you time in the kitchen and makes is much easier when it comes time to make a grocery run.   At a quick glance I know what things I already have on hand and what items I need to restock.  This may sound funny but having the Maytag Ice20 has really changed the way I shop and I mean that in a good way.
Maytag has thought of it all – including features that will help make it much easier to keep the fridge clean.  The shelf adjustable spill-catcher shelves are very helpful and makes clean up a breeze.   The shelves slide out and have sealed edges that help contain spills better. We all know accidents do happen so this feature has come in very handy.
You can learn more by about Maytag by visiting their site and also by visiting Maytag on Facebook, or Maytag on twitter!
I wrote this post participating in an Maytag Moms Dependable Kitchen Ambassador program by Mom Central Consulting on behalf of Maytag. I was provided with a Maytag kitchen appliances set, including a refrigerator, microwave, dishwasher, and range to facilitate my post.