I'm not very 'tech-savvy' as they say; and am constantly calling my husband for help when I find something even the least bit complicated like leads or plenty of buttons on a device. I recently received the 3M Mobile Projector to review and for the second time in my life (the first time was with the iPad); I didn't call my husband for help.
It is so lightweight and simple to use and I had it running in minutes.  It hooks up to your iPhone or iPad and before you know it, you are sitting back relaxing watching your favorite movie with the fam.  You can also watch YouTube videos, TV shows and family pictures as a slideshow!  If you don't have an Apple device you can hook it up to your laptop but that requires you to buy the connection cord.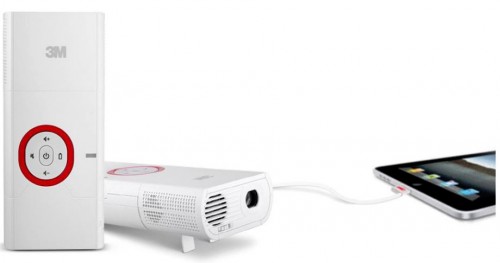 3M Mobile Projector
My husband is such the gadget-lovin'  type and has wanted a projector for years.  His face lit up like that of a kid when he walked in the room as the boys and I were taking a sneak peek at one of the movies we would be watching later on that evening.  I love that it gives my family many more options for activities when we all stay in together. Whenever I mentioned family night, the kids knew it was just a movie on the TV with dinner on the couch and the excitement associated with it has been long gone. But three nights ago, it all changed.
I told the kids it was time for another family night of movies and they all just nodded with consent, nothing out of the ordinary now was there? But then they all gathered in the living room and I took the 'miracle' device out. In minutes they were all oohing and aahing as their excitement grew to heights I must say I haven't witnessed in a while.
We watched the" Karate Kid" on the living room wall and it was such a fun experience. It's unbelievable how such a little device can be so spectacular. Now every place has turned into a movie theater; the kitchen wall, the dining-room wall, and even the ceiling.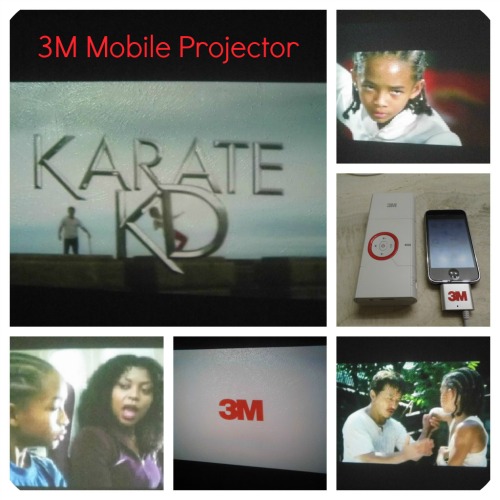 I'm now planning a family get-together and hope we can all watch a photo slideshow of our recent Disney vacation while sitting in the back yard.  I can't imagine a more fun way to view our vacation photos on the "big screen.
 The
3M Mobile Projector
has been a big hit with the family.  I'm still not sure who is more excited about this little gadget, me or the kids.  Because of the 3M projector, family night will never be the same!
The 3M Mobile Projector is available for $229 at retailers such as Target, and other retailers online and off.
Make sure you connect with @3MMobilProjectr on Twitter, and also like them on Facebook!
What's your favorite way to do Family Movie night?
"I wrote this review while participating in a blog tour by Mom Central Consulting on behalf of 3M and received a promotional item to thank me for taking the time to participate."