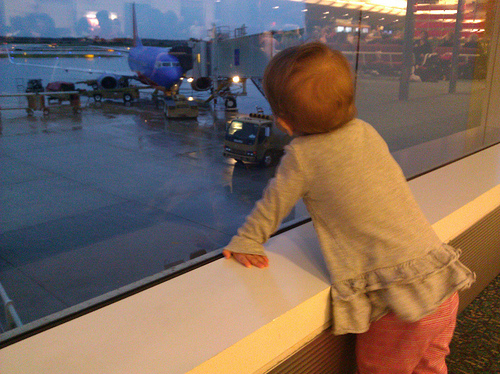 Hi There, Family Flyers!
It can be tough traveling alone, much less with young children. With the growing list of security constraints, it's harder than ever to normal things such as bring milk, medicine and other liquids onboard. To make flying easier for all involved, here are five family travel tips from the experts at Fly.com.
1.  A good way to get children to anticipate a trip overseas is to get them some foreign currency (at a local bank). This will help them get excited and start thinking about what they can buy once they are there.
2.  Children under two years old do not need their own ticket on most domestic carriers, but they'll have to sit on parents laps. When traveling as a family, try to buy a window and aisle seat in the same row. If the middle seat is taken, chances are the person will gladly swap with you or move rows so your family can sit together. If no one buys the seat, then you have the extra space for your child.
3. Bassinettes are available on most flights by request. Be sure to call the airline at least one day in advance of your flight to request one. Most bassinettes can accommodate children up to 25 pounds. If you can manage it though, bring your car seat for the flight. Little ones sleep better in a familiar seat – and he or she will be safer in case of an emergency.
4. When possible, travel during sleep or nap time for your child.
5. Bring a child's favorite blanket for comfort on the plane, in the car and in hotel rooms. It will help them relax and sleep easier.
For more tips, feel free to visit Fly.com, a comprehensive airfare search engine. Happy travels!
This is a guest post written by Warren Chang -vice president and general manager of Fly.com