If anyone knows a thing about breakfast, it?s Denny?s. And I can attest that a wholesome breakfast can jumpstart any day. My kids and I are definitely happier and smarter when we?ve had a good breakfast. It?s so sad to me that 1 in 4 kids right here in Texas struggle with hunger and only 61% of eligible kids are eating a school breakfast. But kids who eat school breakfast are more apt to attend class, perform better on tests, and are 20 percent more likely to graduate high school. That hits close to home because no kid should have to worry about where their next meal will come from and every kid should have great opportunities.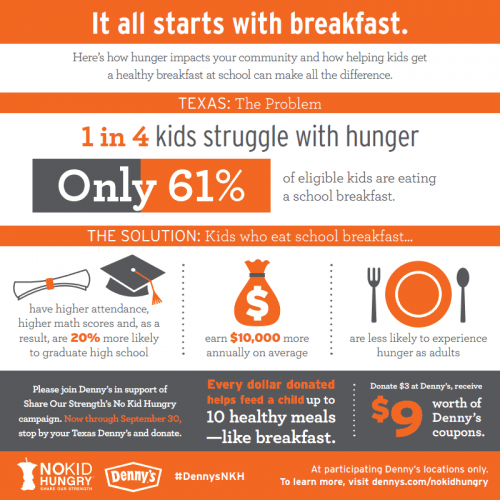 Denny?s wants to fix that, and they?re teaming up with Share Our Strength?s No Kid Hungry campaign to end childhood hunger by putting healthy foods where at-risk kids live and play. That way every child has the chance to live up to their potential with a stomach full of healthy food.
The good news is that It doesn?t take much to make a difference, and everyone can help. Now through September 30, Denny?s around the country are selling coupons to help No Kid Hungry. For donating $3, you can get $9 worth of Denny?s coupons. And every dollar donated helps provide 10 healthy meals. Now that?s a tasty win-win situation!

You can also donate online at dennys.com/nokidhungry. Everyone who donates will receive an email with a coupon for $5 off their next $20 meals at Denny?s. You can also buy some good looking t-shirts to raise awareness and raise money.
So are you ready to join the team?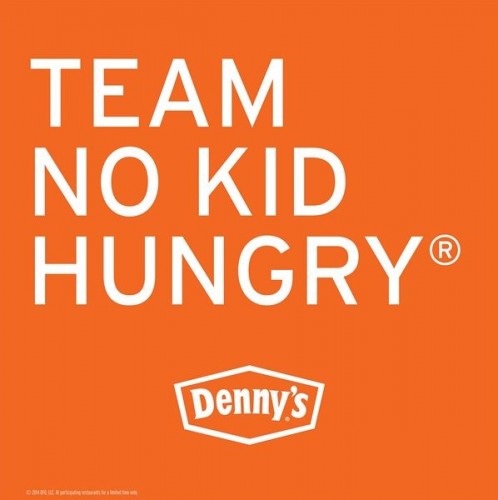 To learn more about Denny?s efforts to end childhood hunger, visit their website.? It doesn?t take much to make a big difference. Take it from people who know and trust Denny?s to provide quality breakfast to kids in need. Together, we can help end child hunger.
I am a Denny?s Diner Brand Ambassador. As such, I received compensation and a welcome kit. All opinions are my own.