Every couple has their song. For my husband and I, its Eric Benet's Never Want To Live Without You? that he sang before he proposed. We danced to it at our wedding and it still makes me smile whenever it comes on the radio. We love dancing in the kitchen or singing in the car to some of our favorite love songs?it?s a quick little way to spend time together and remind each other of our love. With Valentine?s Day right around the corner, love is in the air and in the airwaves, so why not turn to music to set the mood?
If you need a playlist for romance or just a pick me up, here are 50 great songs to get you started. With a little soul, country, rock, and alternative, there?s something for everyone?feel free to dance away and let the love flow.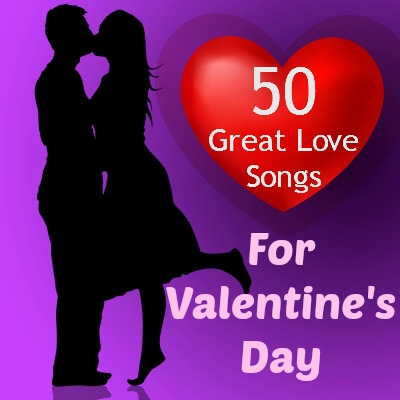 1. Your Love Is King – Sade
2. To Be Alone With You – Sufjan Stevens
3. Let's Stay Together – Al Green
4. Never Let You Go – Jakaranda
5. And Then You – Greg Laswell
6. Sweet Love – Anita Baker
7. My First, My Last, My Everything – Barry White
8. Ain?t No Woman Like the One I?ve Got – Four Tops
9. Come Away With Me – Norah Jones
10. Twilight Serenade – Jason Myles Goss
11. I'll Make Love to You – Boyz II Men
12. All We Are – One Republic
13. Lost Without You – Robin Thicke
14. I?m Yours – Jason Mraz
15. My Girl – The Temptations
16. Knocks Me Off My Feet – Stevie Wonder
17. Precious Love – James Morrison
18. Do You Remember – Jack Johnson
19. Give Me You – Mary J. Blige
20. Lucky – Jason Mraz & Colbie Callait ?
21. The Way I Am – Ingrid Michaelson
22. I?d Rather Be With You – Joshua Radin
23. Because of You ? Ne-Yo
24. I?m In – Keith Urban
25. He Loves Me – Jill Scott
26. Saving All My Love ? Whitney Houston
27.? My All – by Mariah Carey
28. I Love You -Plain White T?s
29. You Always Make Me Smile – Kyle Andrews
30. This Magic Moment – The Drifters
31. Every Beat Of My Heart – Gladys Knight and the Pips
32. Marry You – Bruno Mars
33. The Way You Make Me Feel -? Michael Jackson
34. Endless Love – Lionel Richie and Diana Ross
35. Crazy Love – Van Morrison
36. Some to Love? – Jon B
37. Spend My Life With You? – Eric Benet & Tamia
38. Always and Forever – Heatwave
39. Sweet Thing – Chaka Khan and Rufus
40. You Are the Best Thing – Ray Lamontagne
41. My Funny Valentine" – by Etta James
42. If It?s Love – Train
43. Everything – Michael Buble
44. I Want You – Marvin Gaye
45. Could You Be Loved – Bob Marley
46. Nothing Can Change This Love – Sam Cooke
47. These Arms of Mine – Otis Redding
48. Something – The Beatles
49. You and Me – Lifehouse
50. Between the Sheets – The Isley Brothers
Are we missing your song? Comment and tell us your favorite love tune and let's keep this list going.
?What are some of your favorite Valentine's Day songs?
Photo provided by FreeDigitalPhotos.Net