When it comes to carrying your baby you want to make sure that you have a comfortable fit for both baby and mom. Carrying your growing baby is a simple and easy way to get around but at times it can put a strain on your shoulders and back as well.  Choosing the best possible carrier is critical!  For some, a baby carrier is much more convenient especially during those times when you need to be "hands free".
If you do your search, you will find out that there are countless carriers out on the market , but all are not created equal so you need to be sure to do your homework. One in particular I like is the Britax Baby Carrier. What's great about this carrier is that it offers moms the versatility of how you choose to carry your infant. You can carry your baby in two comfortable positions. One way is to face your baby inward towards you which is very comforting for your little one.  As they get a bit older you can then face them forward as he or she becomes more alert and curious. They can now see the world as you do!
As a mom, comfort means everything! While carrying your child around for hours at a time, the last thing you want to endure is pain. The Britax Carrier minimizes that! In addition to style and versatility you also get comfortablilty for everyday use.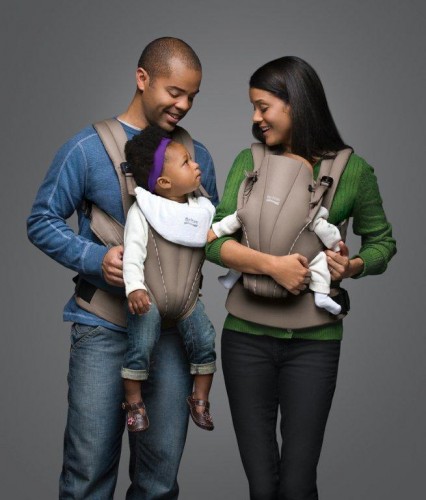 "The BRITAX BABY CARRIER has been designed to provide the highest level of long-wearing comfort for both you and your growing baby. The BRITAX BABY CARRIER features the CarryLong System, which reduces the risk of back and shoulder strain during extended wear by distributing weight across the shoulders, back and hips.

Not only does the BRITAX BABY CARRIER offer superior levels of comfort, but it is versatile as well. The ergonomic carrier allows you to face your baby inward towards you or outward to face the world, and accommodates infants from eight pounds to toddlers up to 32 pounds. To learn more about the carrying positions offered by the BRITAX BABY CARRIER, visit our Baby Carrying Positions page."
Britax knows the importance of having a comfortable and secure carrier for moms and their bundles of joy. That's why in addition to comfort and versatility you get something that is simple for everyday use.  It's also pretty attractive and sleek, and comes in black, navy, and tan (organic).  
 In helping to spread some holiday cheer , Britax has generously offered to sponsor a giveaway for one lucky Cocktails with Mom reader.   Like Britax on Facebook and follow them on Twitter to learn about exciting promotions and other special offers.