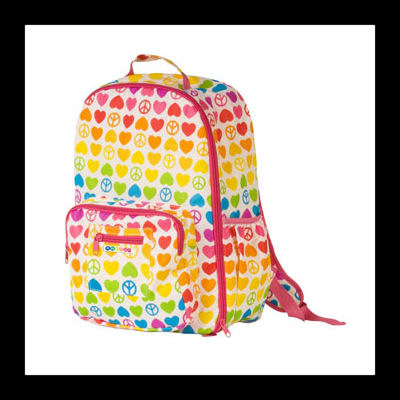 Beeposh brand is a new breakaway hit product that features a one-of-a-kind super squishy, super soft and cuddly stuffed animal or character with a collection of coordinating accessories, apparel, and room decor.  Each collection is rich in vibrant color and unique, trendy prints.  Beeposh brand has become hugely popular with tween and teen girls ever since Miley Cyrus was seen wearing a pare of Beeposh pajama pants on her web show, MileyWorld.
Quite a few celebs have actually been caught on camera with Beeposh, including Howie Mandel with the plush Maggie and Brittany Curran with the  daisy beach tote.
Beeposh products are available at www.sobongo.com
I received a Beeposh Hope backpack for review, which would be perfect for back-to-school, but since my little ones aren't in school yet, we use it as our travel toy bag.
The Hope design is uber cute!  It is brightly colored, and my daughter loves it.  It is white nylon printed with hearts and peace symbols in neon colors.  The zippers and binding are fuschia while the lining is a pastel pink.  The bag is sturdy and durable, but lightweight enough that my toddler can stuff it full of her toys and wag it around without any problems.  The Beeposh backpack has plenty of room for storage, it is 11.5 w x 18 h.  It has the large zippered main compartment, that has It has two side pockets which are perfect for sliding her straw cup into.  The front zippered pocket has sidelets that prevent everything from falling out when the bag is unzipped completely.  The front zippered pocket is large enough to fit snacks or a pencil bag.  And the smaller front zippered pocket can easily store lip balm and house keys.
The zippers on the backpack all have cute little heart dangles on them, which of course fascinates my little one.  The shoulder straps are padded and adjustable.  The front and back of the backpack are also padded, which makes it sturdier and keeps book bindings from digging into your back.  Beeposh backpacks are machine washable.
About Sobongo

Sobongo is an online retail site that is blurring the lines between online shopping and social media.  It is their mission to provide every person in America the most convenient, customer-driven and customer-directed online shopping experience;  allowing customers to decide the look and feel of our website, what products we carry, and what promotions we offer.
Disclosure- This post was written for Cocktails with Mom and Sobongo, who provided the complimentary product in exchange for my honest review.
cmp.ly/2/fsascc