There aren't too many foods out there that are both delicious and capable of being a major part of every type of meal. Bacon is one of these glorious foods, and aside from being served with breakfast, wrapped around shrimp, and thrown on a cheeseburger here and there, bacon is all too often neglected. Why this happens, I'll never understand, but this article is taking the first step in changing this unfortunate circumstance.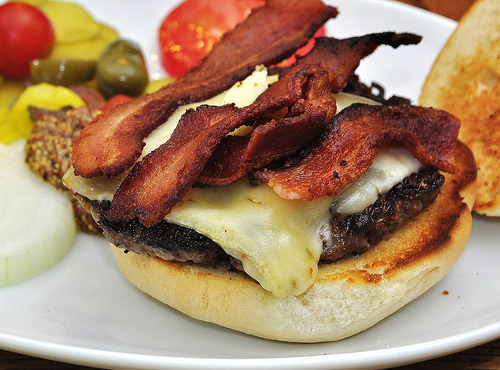 After whipping up the recipes below, you'll finally realize how much you've been missing out when you don't occasionally incorporate bacon into your menu. You can't be afraid to get creative and excited about using common ingredients in new ways. If you're looking for more bacon-based recipes, search Recipe Finder for any course meal. While going through these five courses, channel the frantic excitement of the Beggin' Strips dog ("Bacon! Bacon! Chewy, yummy, smoky Bacon!") and get psyched to cook!
Salad: Classic Cobb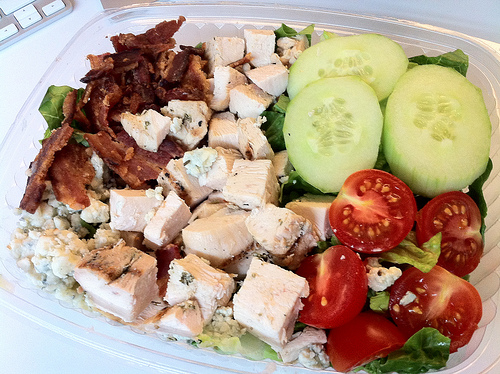 Cook time: 25 minutes
Difficulty level: 1/5
Recipe: here
Even though I want to promote fresh ways to incorporate typical foods, this first recipe will start off in a classic way. If you're making this menu for your friends, this will help them ease into the whole idea of eating several courses centered on bacon. Their hesitancy is normal, but trust me — it won't be confirmed once they've bitten into these juicy foods.
Cobb salads are common but they're equally delicious, and this type of salad calls for real, hearty bacon. I'm not talking about tossing around some pre-packaged bacon bits, here, people. I'm talking crisp, thick pieces of cooked bacon strips. Bacon serves as a main ingredient of a cob, so make sure you give it the attention it deserves.

Soup: Chickpea and Bacon Soup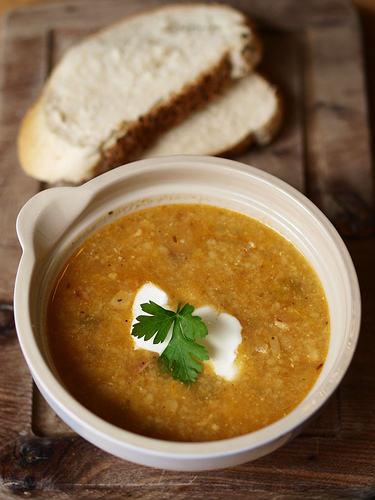 Cook time: 20 minutes
Difficulty level: 2/5
Recipe: here
Now we're getting into the less traditional stuff. You're probably used to seeing chickpeas with more Greek-style foods, but they go perfectly well with bacon. (See, if you don't try to use different foods together, how will you ever discover unexpected combinations?)
This soup doesn't take long to make and features chickpeas and bacon alongside some great soup additions: onions, garlic, and other delicious herbs. This is a heartier soup, which is why the bacon is so perfect to add to its ingredients list; bacon adds that touch of smoky, meaty flavor without being too filling.
Appetizer: Bacon Hush Puppies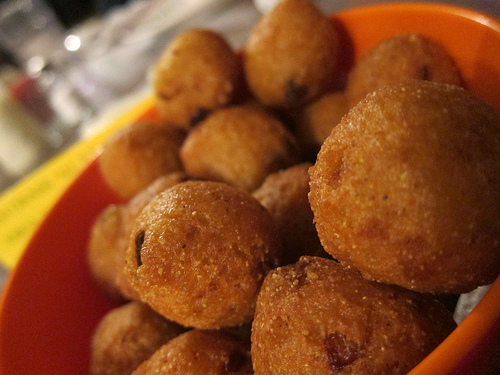 Cook time: 25 minutes
Difficulty level: 3/5
Recipe: here
Everyone loves hush puppies. Not that I've done a survey or anything, but based on my intense love for them, I find it inconceivable someone wouldn't. So why not take something great and make it fantastic? Hush puppies have flavor, but they can do with a little more. Throwing in some bacon bits can really do the trick.
The recipe calls for store-bought bacon bits, but I'd encourage you to just cook up some bacon strips and cut it into tiny pieces. Taking that extra step will go an extra mile in taste. Because they only take 25 minutes to make and serve 10 people, they make the perfect appetizer for the bacon-lovers in your life.
Entrée: Bacon and Onion Tartlette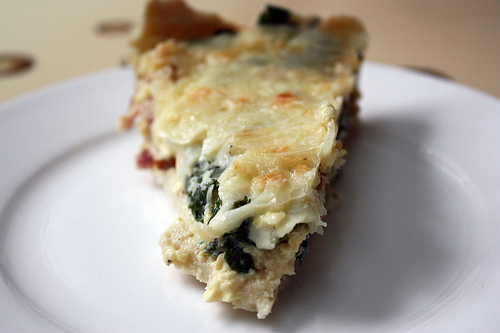 Cook time: about 1 hour
Difficulty level: 5/5 (still not too bad, though)
Recipe: here
Really, what sounds better than bacon, onions, peppers, and cheese all working together to form a scrumptious tartlette? Maybe double bacon. But that's your call. This delicious meal could also serve as a nice appetizer, but either way, you'll be pleased with your culinary creation.
While it might seem like it takes a while to make (1 hour), that's only if you follow the recipe's portion about creating the pie crust from scratch. If you're feeling ambitious, go for it! If not, try a store-bought approach; cooking the filling will probably only put you back half an hour, which is a totally reasonable cooking time for such a good dinner.
Dessert: Bacon Caramel Maple Ice Cream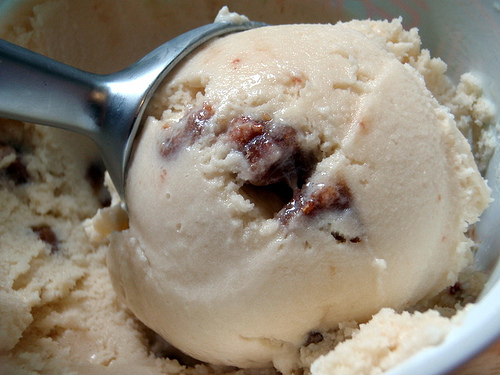 Cook time: a few hours
Difficulty level: 4/5
Recipe: here
Yep, you read that right. Bacon ice cream. Don't run away. It's possible for smoky and sweet flavors to combine into a delicious dessert for you and your dinner guests, and this recipe will show you how. Merging contrasting but complimentary tastes can be one of the best things you do for your taste buds!
The recipe involves store-bought bacon caramels, but if you can't find them or you want to be adventurous, you can try this bacon caramel recipe to use for the ice cream. And don't be scared off by the cook time; ice cream just involves a lot of freezing, so while you're preparing dessert, you'll have time to listen to all of your friends rave about your previous four courses.
Conclusion
This menu will really represent how many ways bacon can work with other foods and combine with other tastes to create original, delectable flavors. When you have an ingredient like bacon that is so well-liked and not very expensive, you have to appreciate its versatility. Good luck cooking, and enjoy each and every course!
This was a guest post written by Christina Jones of Jones Baby Love.   Feel free to stop by and say hello and connect with her on twitter.