This post sponsored by Lunchbox but all opinions are my own.
During the holiday season, we've all got our own wish lists that we hope Santa will heed.(provided, of course, that we've been nice this year). While I'm not a great fan of technology on the whole, I must admit that I cannot live without my laptop. It's just so useful! In these days, it's pretty much essential to have a laptop or home computer, and certainly extremely useful.
I am actually in need of a new laptop myself and have been during some research because now is a great time to take advantage of the super low prices. Walmart is usually my place to go for most things and, I noticed they have pretty decent stock of Intel-powered laptops.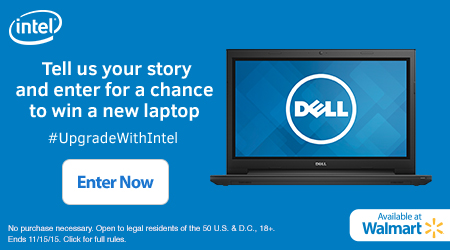 Right now, you'll find a great deal on the Dell Inspiron Black 15.6 Laptop. It features a 15.6″ LED-backlit touchscreen with HD resolution, 720p webcam, 3-in-1 memory card reader, Bluetooth 4.0, 1 x USB 3.0 ports, 2 x USB 2.0 ports, 1 x HDMI port, 1 x headphone/microphone jack, 1 x RJ-45 Ethernet port, and 4-cell battery for up to 6 h 33 min battery life. Just perfect for checking emails and Web browsing, or streaming movies or running your own website. This all may sound pretty pricey, but an upgrade to a new Intel laptop at Walmart is more affordable than you think.
If you're in need of an upgrade, it's the perfect time to buy one! Or you can enter the #UpgradeWithIntel Contest for your change to win a new laptop. All you have to do is use the link to the Upgrade with Intel Sweepstakes and share your story. You have until November 15, 2015, to enter. Click on the Contest Tab, which says "Enter Now." Then answer, in 400 characters or less, the question "How would a Dell Inspiron 15.6" Laptop make your life more amazing?"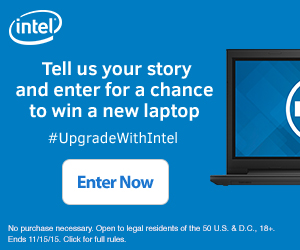 One entry per person.  Remember you can only enter through the microsite, blog or social comments do not count as an entry.
This post was sponsored as part of my participating in the "Upgrade with Intel" Program.