Hey Ladies!  I have just one question for you. Is your Betty Ready?  Or are you in need of a " Makeover"?  If you're wondering what I'm talking about just give me a minute but make sure your kiddos are turned away because we're not talking about your crazy Aunt Betty, although I'm sure we all may have a few good stories to tell about our Aunt Betty. But I'm talking about the other Betty.  You know…Betty?…." The Hair "Down There".
Some of you may be blushing at the thought, but this is a real topic we women have to deal with one time or another (LOL).  Sometimes we just need a little touch up -or- we want to have a little fun.  Would you agree that when it comes to being well-groomed and looking your best there is something magical that happens to our self-confidence?
When I think of being well groomed, I usually think of neatly groomed eyebrows, shiny-silky hair, white teeth, hairless legs and an overall neat appearance.  But how often do you think about the hair "down there"?   If you're like me, probably not that often.  Well the concencous is out and it appears that we should be thinking more about it.
Some of you may have heard of Betty Products before, but for some, it may be a new discovery.    I was given the opportunity recently to see what they were all about.  They provided me with the care package of products that I could not wait to share with you.  So Fun!
 About Betty Product: (from the website)
Our Award Winning betty™ products are specially formulated color dyes for the hair down there. In just a few years, we have hundreds of thousands of happy customers using betty to naturally match their hair above, cover gray or just for fun! Whether you're a blonde (be a true blonde now!), radiant auburn, rich brunette, raven black or want to try hot pink for fun, our easy to use no-drip formula gives you the perfect finishing touch.
 So what they are really saying is that Betty Beauty gives you the opportunity to truly give yourself a full body makeover, and with that it includes changing the way your hair looks "down there."  If you're looking to have a little fun or to just touch up a few spots of grey, Betty Beauty offers you several options or should I say shades to creatively color your nether regions.   No worries if you think they may not have the shade for you, I'm sure they've got you covered to give yourself a little boost.  Out of the nine different shades, I'd have to say that the Malibu Betty is my favorite.  It's a cool aqua blue that happens to be my birthstone and favorite color.  So you can only imagine what I will be sportin come my birthday!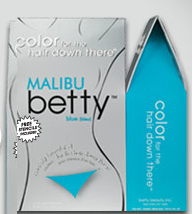 Other fun colors include FUN betty in a fun shade of hot pink. which means play. Adventure down below! Just perfect for those who love to have fun.   Then there's SEXY betty in Lilac, Love betty (Red) and of course LUCKY betty (green), If you're you're feeling lucky, then this is the way to go.   And then there are your more traditional colors in black, brown, auburn and blonde.  The cool part is that all the Betty's come with stencils that may include a heart or dove stencil for example.  Oh I almost forgot.  They also just added a new product called Alpha betty that you can monogram your body with a little bling with gemstone alphabet body sticker.

If that isn't enough for you, Betty offers even more products like bare betty, boy shorts , t-shirts anda new product called Alpha betty that you can monogram your body with a little bling with gemstone alphabet body sticker  They even have a Betty for Men. We women aren't the only ones who need a little boost of color "down there" and men can use it too.  Imagine the fun you and your mate can have with the different stencils to personalize his male betty.
So whether you are going a little gray, and you'd like to give yourself a brand new look or have a little fun and spice things up a bit, Betty Products may give you the kick you've been looking for. 
The product was really simple and easy to use.  I accepted this review all out of curiosity and wanted to see how it really works.  I also wanted to surprise my husband with something new and different….in which I did.  The results were great too! I would definitely use it again but I suggesst reading the directions fully before you begin.   Thanks to Betty, I can now add a little zip to myown betty and walk around with a new private smile.
If you are curious and want to have some fun with your Betty, go ahead and take a peek at BettyBeauty.com.  Go ahead don't Shy!
How would you like to win it?
Betty Beauty sent me this fabulous package filled with great Betty products and they would like to send you one to.  One lucky reader will win a Betty Beauty Package to help keep their betty ready.  Included in the package was 4 Betty Kits: 
Malibu Betty, Black Betty,Fun Betty, and Ready Betty the ultimate stylin kit. A pair of boy shorts and a t-shirt with the logo… My betty is ready.  How cool is that !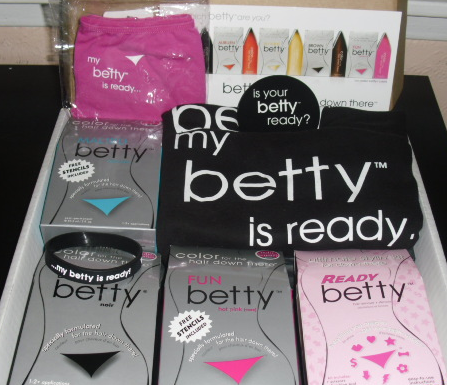 Here's How to Enter:
Visit Betty Beauty.com and tell me which betty best fits your personality or the one you would most like to try?
Bonus Entries:
Like Cocktails With Mom on Facebook
Like BettyBeauty on Facebook and let them know I sent you
Follow me publicly via Google Friend Connect
Subscribe to Cocktails with Mom by Email (2 Entries, Please remember to confirm your subscription)
Share this giveaway on Facebook with the link to this post then come back here and tell us you shared. (2 Entries)
Add our text link or button to your blogroll (3 entries)
Blog about this giveaway and link back to Cocktails with Mom! ( 5 entries)
Stumble this post (the post, not the site)
Follow me on Twitter and Tweet:
Get your Betty Ready!  Enter to win a Betty Beauty Fun Prize Pack  http://bit.ly/egJOgJ @momcocktails#Win#Giveaway ends 4/11  US only!
(You may enter twice daily, just leave a comment with each Tweet's link)
Rules: Open to US only
 Include email address with first entry
Winner will be chosen by random
Giveaway ends 4/11/11 at 11:59 P.M. CST
Winner will be emailed and must respond within 48 hours or another winner will be selected.
Disclaimer:  I received the package of betty products described above to share my opinions with my readers.  The opinions and expressions are my own and no other form of compensation was received other than a fun experience and to try something new.  Please note:  Although my experience was a good one, others experiences may be different.