Between taking care of a baby, working full-time, and trying to keep a somewhat clean home, it?s hard to have time for romance with my husband. Our days of exciting nights on the town every weekend may be long gone, but we still find time to turn up the heat at home.
With Valentine?s Day in mind, I compiled a list of ideas for a little at-home romance. Just put the kids to bed, turn the lights down low, and let the romance begin.? Here is my list of Great Ideas For Valentine's Day!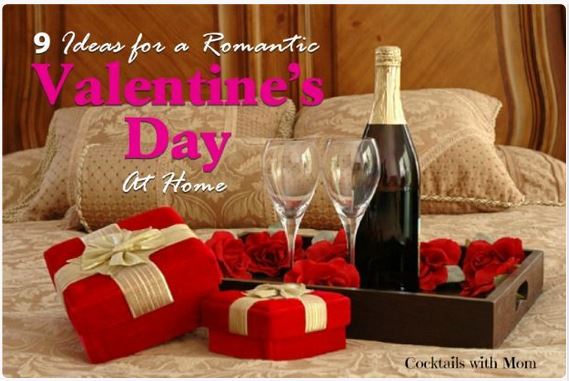 Great Romantic Ideas For Valentine?s Day
Treat your love to a Spa night they will always remember. Massages, candles, light music ?it doesn?t get more romantic than that.




Relive the past. Recreate your first date or write down your love story to bring back those sweet memories.

Candlelit dinner. Forget reservations at that romantic diner?order in a fancy meal, candles, and a little bubbly to bring a taste of your favorite restaurant home.

International cooking. If a trip to Paris isn?t in the forecast, spend a night enjoying food from there instead. Pick a place you would love to travel to together and cook a meal at home.

Dance the night away. Turn on some music, put on your dancing shoes, and spend the evening foxtroting and cha-cha-chaing. If you?re not a natural dancer, watch some YouTube tutorials together to get the feel for it.

Love fort. Build a fort in your living room out of blankets and sheets, then crawl inside for a sweet treat with a game or movie.? My favorite romantic movie is still Love Jones hands down.? Brown Sugar and Love and Basketball
are also really good.

Fireside romance. Build a fire in the fireplace and cuddle up with a mug of hot chocolate. Enjoy an evening of romantic adult conversation?no kids? talk allowed.
Indoor picnic. Bring the outdoors inside with dinner on the floor. Snack on your favorite foods on a blanket, with no need to worry about ants.

Art night. Grab a canvas and some paints and work on an art project together. Even if you?re not the artistic type, the time together trying something new is sure to bring a new dimension of romance to your relationship.
?Get creative and enjoy your time together?you never know where the night will take you!
?What are some of your favorite at-home romance tips?
Save
Save
Save