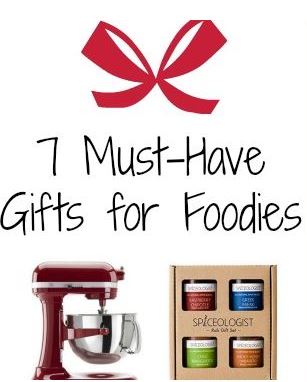 We all have that friend?the one who is constantly trying new recipes, experimenting with unique food combinations, and trying the newest restaurants. The foodie friend is a great person for a restaurant recommendation, but they can be difficult to shop for. Check out these seven must-have gifts for the foodie in your life.
No kitchen is complete without a good stand mixer, and there?s none better than a KitchenAid Mixer
. Available in a huge selection of colors, this mixer can do it all and look good doing it. If your special someone already has a Kitchenaid, check out the huge variety of attachments, ranging from food grinders
to ice cream makers
.
A foodie will love to have access to fresh herbs and spices without venturing to the store or an outside garden. An ice cream makers
can sit on a windowsill or kitchen counter for quick and easy access to a variety of herbs all year long.
Nothing pairs better with great food than the perfect wine, but sometimes you only want a glass without opening the entire bottle. A Coravin 1000 Wine System, Black
lets users open a bottle without removing the cork, preserving the rest of the wine while pouring the perfect single glass.
Even if someone loves food, they probably don?t love dealing with garlic. The Garlic Zoom
is a simple gift, but it makes preparing food so much easier. By simply rolling the device on the counter, the garlic inside chops and peels garlic. It?s a must-have for anyone in the kitchen.
Foodies love to spend time with good food and good friends, so make their life as a hostess easier with a fancy cheese board

that lets them serve a variety of gourmet cheeses in style. It?s perfect for an intimate dinner party appetizer or to put on the table of a nice potluck meal.
Forget the standard spices?a true foodie only wants the best for their food. Give the foodie in your life a selection of gourmet spices and rubs
that can be used on meats and all types of dishes. With great presentation and a myriad of flavors, they?ll be reaching for these spices all the time.
Your loved one might enjoy a great breakfast, but have they experienced the wonder of Danish pancakes? An Ebleskiver Pan

helps produce perfectly cooked mini Danish pancakes, which are a growing trend in the food world. With a gift like this, you?ll just be waiting until your foodie friend invites you for brunch.

Looking for more gift ideas? ?Check out my guest post on?car accessory gift ideas? for the car owner on your list.