Kids are constantly growing, so even the cutest outfits often don't last very long before they are too small. Before you know it, outgrown and old kids' clothes can litter your house and fill your closets. Here are five things to do with all those clothes once they're too small for your kids: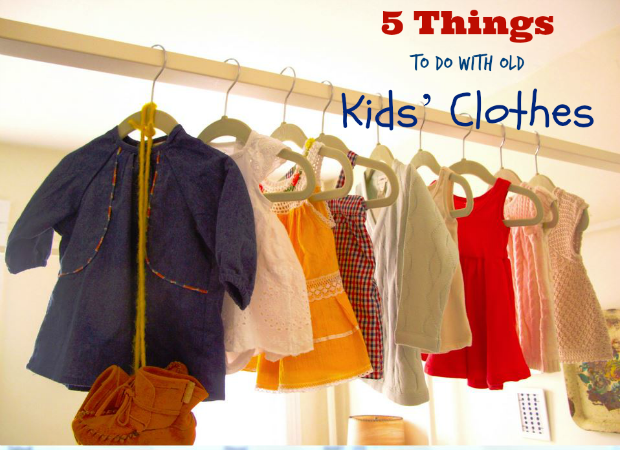 Donate. Look for a charity or shelter in your community that could benefit from children's clothes. In many cases, these organizations are always eager for donations that they can provide to at-risk or needy families. Be sure to check with the charity to see what types of items and sizes they need, and then donate items accordingly. Make sure to wash the items before you donate them.
Thrift. Most cities and towns have thrift stores in need of donations. Pack up used clothes that are in decent shape and take them to your local thrift store. Most thrift stores will even give you a receipt that you can use for taxes, just make sure you're using the right tax calc. Thrift stores take all kinds of clothes throughout the year, which means you can donate summer items in the winter or vice versa. As an added bonus, you are helping a good organization, providing low-cost clothes to people on a budget, and spreading the joy of buying used items .
Sell. There are lots of ways to sell used children's clothing to other parents. If you sell items, make sure they are clean, free of stains, and in good condition. Popular selling options including selling them locally through a site like Craigslist or eBay, through a local consignment store, or selling them online through second-hand sites like ThredUp.com or Schoola.com. Clothes that are high quality or that have recognizable brand names tend to sell better.  And while the money you get from selling your kids old clothes may not get you that new car you want, every bit does help and I say go for it.
Swap. Turn used clothes into a chance to get together with friends. If you know parents with kids who are different ages, organize an event where everyone can bring their used clothes and trade for clothes in a different size. Swapping helps everyone involved and doesn't cost anyone a thing to participate.
Craft. If you're more the sentimental type, you can turn outgrown clothes into a childhood keepsake. Some parents make quilts out of old clothes, while others turn them into a shadowbox or memory book. Check Pinterest for a variety of projects to fit your style, budget, and materials.
image: snapshotnarrative.wordpress.com/