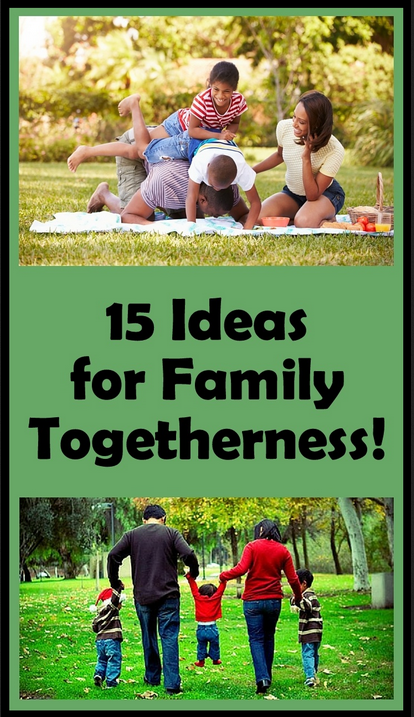 With all of the activities available to kids and parents, it often seems like families only see each other in passing instead of having quality time together. Take back family time by scheduling activities together. It doesn?t need to take a lot of time or effort to enjoy time as a family. Here are 15 ideas to make memories as a family:
Game night. Break out your favorite board game and spend an evening playing it together.
Movies. Rotate who in the family gets to pick the movie and enjoy it with pizza and popcorn. It?s the perfect weekend activity after a long week.
Road trip. This requires a little more time and planning, but it provides your family lots of time to spend together as you see new places and experience new things.
Walk. Take a simple walk around your neighborhood or a local park and share about your days.
Local attraction. Find a fun place in your city to visit, like an amusement park, museum, or gallery.
Park. Head to a nearby park to enjoy playing outside games, kicking a soccer ball, barbequing, or just being outside together.
Sports. Hit the backyard to play basketball, baseball, soccer, Frisbee, or more together. If your family isn?t the athletic type, you can also go to a sporting event together and cheer for your favorite team.
Swim. When the weather is warm, go to the pool or water park. You can also setup a sprinkler in the backyard and have fun running through it and playing water games together.
Hike. Choose a trail that works for your family?s hiking level and take in the beautiful nature in your area.
Volunteer. Find a soup kitchen, shelter, or charity that allows families to volunteer together and show your family the joy of service.
Chores. Even a simple Saturday cleaning the house can be time for family bonding if you turn on some music, laugh, and make it a game.
Cook. Test your prowess in the kitchen by making dinner together. You can assign each person a different part of the meal or have a competition with unique ingredients.
Make crafts. From a simple finger painting to a more advanced collage, get out the art supplies and make something creative.
Play music. If anyone in your family plays an instrument, gather the family to listen or sing while they play. You can also listen to your favorite bands or even go to a concert together.
Garden. Plant a new flower or vegetable garden and work on it together throughout the season. You can plant a small herb or windowsill garden if you have limited space.