If you all remember, I had a budding scientist assisting me with the last Wisk Experiment we performed and since he had such a great time, J.T.  wanted to play along and give it another try.  This time we were to fight those nasty carbohydrate stains…..Ketchup to be exact.  Still equipped with the power of the new Wisk with Stain Spectrum Technology on hand, we were ready to combat those carbohydrate stains.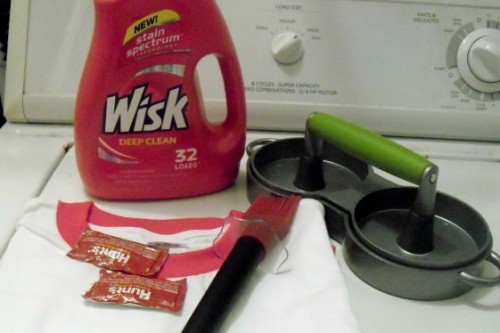 Prior to starting the experiment, J.T.  put claims on the shirt.  He says… now since I'm assisting you I get to keep the shirt, right?  Then, he says; well let's see if we get the stains out first.  I thought it was cute of him to add that.  Now off to the test.
With it being football season and all, you can account on one thing, that we have our share of football foods and all the condiments and sauces that come along with.  There's no way around it and we can't have it any other way.  The one thing, I CAN do without is those awful food stains with Ketchup being on top of the list.
The new Wisk has been working wonders on my other stains so I was anticipating this come out.  For our 3rd experiment we received yet another Wisk package filled with T-shirt, basting brush, ketchup and oh a very nice hamburger pressure in which I've hadd the pleasure of making some really juicy burgers with. 
For testing purposes, we took the ketchup along with basting brush and smeared it over the t- shirt.  We didn't get all that creative this time, just enough to see how well it works.  I tried to get it in there as much as possible and let it sit for a few moments.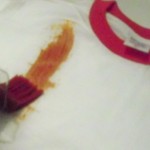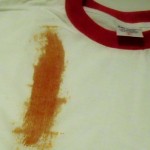 First I applied the new Wisk with Stain Spectrum Technology onto the stain and let it set for 5 minutes while I finished up something's.  I must say I had to scrub it a little harder than with the first experiment since the carbohydrate stain seemed a bit tougher.  
 Now it was time for Wisk to work its magic.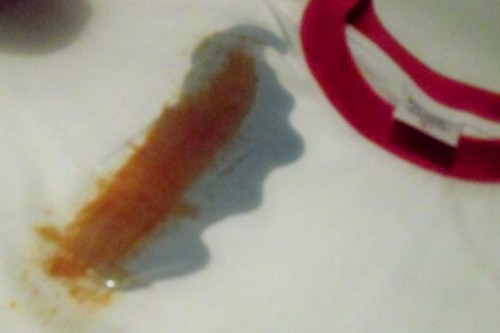 I was getting a bit doubtful at first but I continued but after a few more scrubs the stains were all gone.    So once again I say that on carbohydrate stains Wisk with Stain Spectrum Technology still pass the test.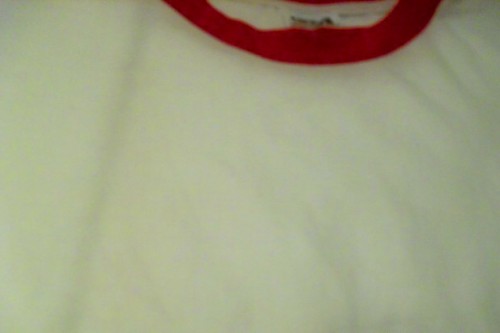 Now Remember  you can still download a coupon for $1.00 off Wisk Stain Spectrum and  connect with Wisk on Facebook to discover the answers to all of your laundry questions.
---
Disclosure: This post is sponsored by Wisk.  While I did receive compensation to participate, the experiences and opinions expressed are, as always, my own.