Do you have a little Doc McStuffins fan in your family? If so, they are going to LOVE School of Medicine.  The newest addition to the Doc McStuffins catalog is School of Medicine was released on Disney DVD on September 9th, 2014. On this one DVD, there are five cuter than cute episodes on how to stay happy and healthy. There's always something fun to learn from Doc and all her toys.  There's laughter, hugs and lots of love and shows the importance of visiting the Doctor.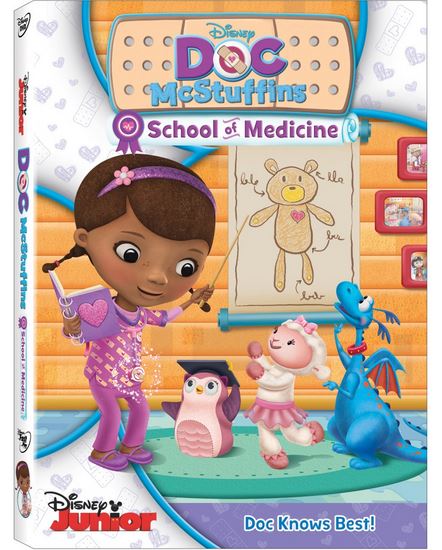 About Doc McStuffins School of Medicine:
In "Doc McStuffins: School of Medicine," a compilation of engaging Doc McStuffins stories, the many specialties in which doctors practice medicine and health care are highlighted for young kids to comprehend.  In her playhouse clinic, Doc is an optometrist, helping her stuffed owl toy, Professor Hoostburgh, to see clearly again.  As a dentist, she fixes a tooth on Donny's toy shark Mr. Chomp and, as a radiologist, Doc takes an inside look at Daisy's arm after a Roller Disco fall.  Then, Doc accidentally sprains her own ankle, so it's up to her toys to provide the care and compassion to Doc herself and with rest, patience and plenty of cuddles, she will be as good as new, singing  "The Doc is in."
Episodes:    
1 – Chilly Gets Chilly / Through The Reading Glass (Optometry)
2 – Hallie's Happy Birthday / Shark-Style Toothache (Dentistry)
3 – Think Pink / You Foose, You Lose (Sports Medicine)
4 – Disco Dress Up Daisy / The Glider Brothers (Imaging/Radiology)
5 – Celestial Celeste / Run Doc, Run! (Imaging/Radiology)
This is a really great DVD for kids who may be afraid of going to the Doctor, whether it is for the first time or just for a check-up. Doctors and offices can be scary, but Doc McStuffins helps calm that fear.  You can purchase your own copy of retailers nationwide or online from Amazon.
Win it!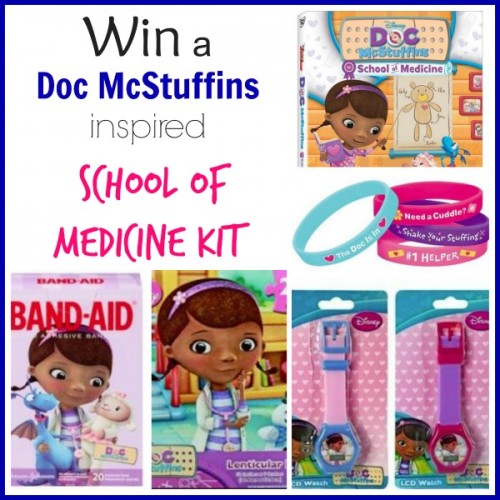 Doc McStuffins inspired School of Medicine kit
Doc McStuffins Watch
Doc McStuffins Puzzle
Doc McStuffins boo boo Band-Aid
Doc McStuffins Wristband
Doc McStuffins: School of Medicine DVD
One Cocktails with Mom reader will win Doc McStuffins: School of Medicine on DVD! This giveaway will end on October 15th at 11:59pm CST. Open to US readers only. Winner will be emailed and will have 48 hours to respond or prize will be forfeited.