When we visited Orlando last month for our family vacation, I just knew it wouldn't be complete without a fun-filled day in the water.? I hadn't visited? Wet n' Wild in years so it was definitely on our must do list.?Wet N Wild is the premier water park in Orlando and features fantastic water rides, slides, tubes and other water thrill rides. ? The timing for our visit was perfect because we were just? in time for the opening of the new family friendly section Blastaway Beach.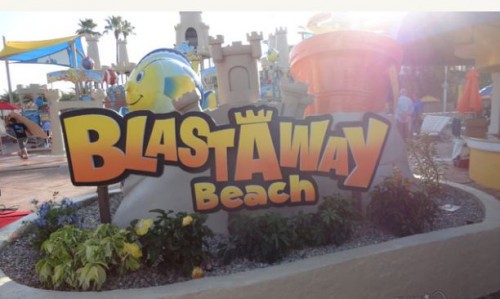 Blastaway Beach? is considered ?the largest water playground of its kind in Florida? and just yells fun!? The fun filled water playground has 15 slides, 160 soakers, jets, waterfalls and water cannons across two shallow entry pools. The area was designed for families with smaller kids so that they can enjoy an a more calmer area than the main water park area.
Upon walking through the gates, you cannot miss the 60 foot high simulated Sandcastle.? It immediately caught the kids attention and they could not wait to head in that direction.? It was a site to see and we couldn't wait for the fun to begin!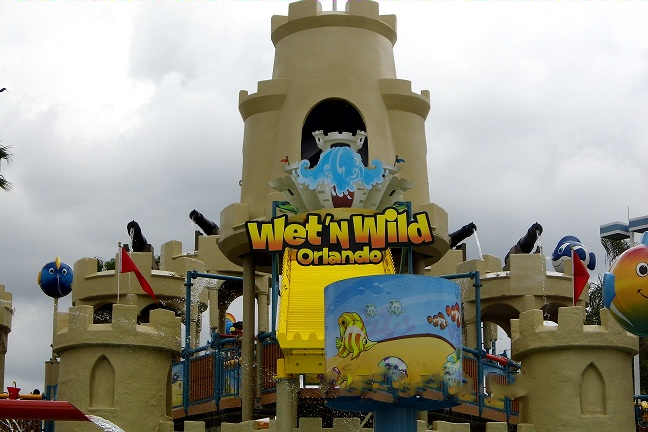 The area was really family friendly and parents didn't have to worry about their kids getting getting ran over by the older crowds.? Kids can enjoy themselves while playing and parents can relax knowing their kids can run around freely.?? I remember asking my kids if they were enjoying themselves and they said, " We're having the best time ever".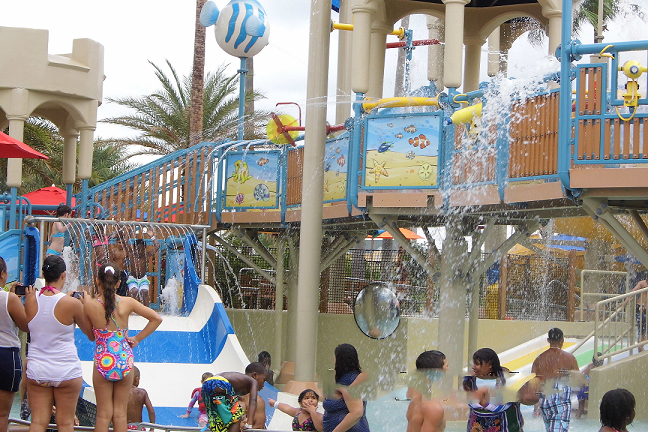 It was fun indeed for all of us.? The boys thought it was so cool to have an area that they could enjoy and also have mom and dad join in.? They really got a kick out of dumping buckets of water on mom and dad and squirting us as we went by.? The best thing about Blast Away Beach is that adults can enjoy it with the kids as well.? It was really fun for the entire family.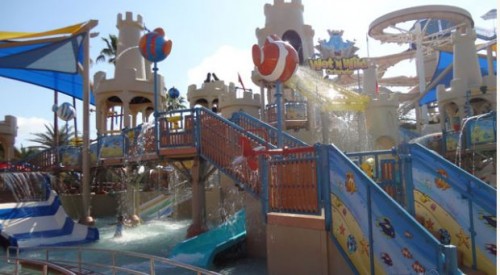 Another thing I was very pleased about is that although we were there to keep a close eye on the kids, there were several lifeguards on duty placed all around.? Just about every corner I turned there was a lifeguard standing by with a careful eye.? I loved that and thought it was very reassuring for parents.? Life vests are also provided (free of charge) as an added precaution although the water is very shallow.
It was also nice to have a place to relax when you get a bit tired.? There are lots of lounge chairs available for adults ( and kids) to relax when you need to take a load off.? There is also a covered shaded area with tables and chairs.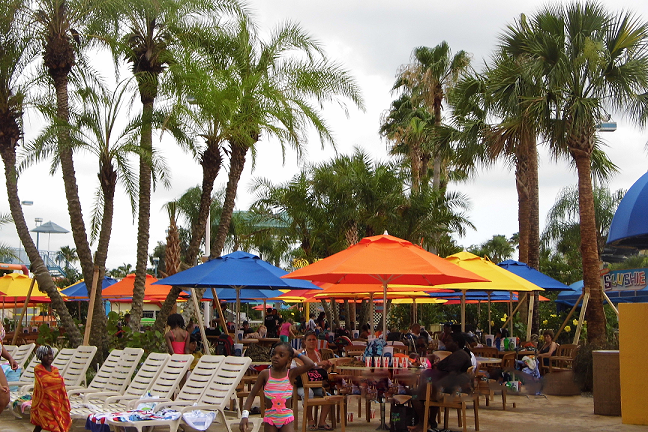 Since this was a trip for all of our enjoyment, I was? really pleased to see the number of? multi-person rides.? We were able to enjoy several rides as a family which turned out to be extremely fun.? When we wanted to relax for a bit, we headed for the lazy river and floated around. ? The Lazy River has always been one of my favorites with the wave pool coming in at a close second.
Wet ?n Wild does allow coolers in the park so I wish I had known this earlier as I would have packed a small one to carry along with us. There all some items that are not allowed so you'll want to be sure to check that out beforehand. We did however ended up having lunch at the park and found the pricing to be very reasonable.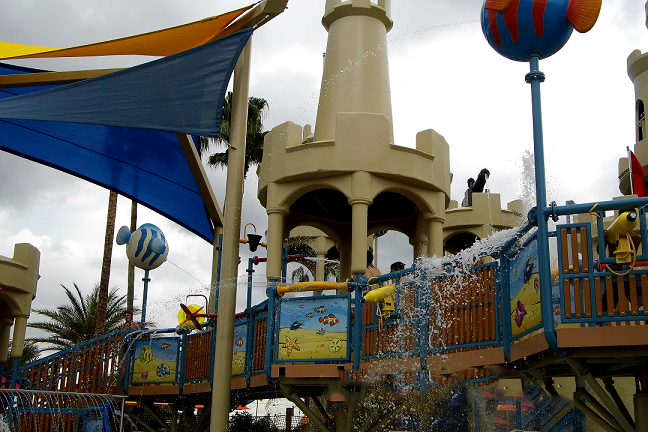 Our visit to Wet ?n Wild turn out to be an enjoyable one.? It's affordable, family friendly and a great way to keep cool on hot summer days. ? We will be definitely be heading back on our next visit to Florida.? If you're looking for some fun water activities on your next family outing or vacations,? I recommend you check out? Wet ?n Wild? and it's family friendly area Blast Away Beach. It is indeed fun for the entire family!