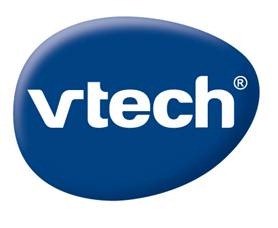 In my house, VTech is a well loved named.  Many of our favorite electronics as well as kid's toys are made by VTech.  Over the last few months, I have been in search of a good video baby monitor.  I looked at the baby companies but never considered that VTech might have one.  When Dee emailed me with the information, I jumped at the chance to review their Safe & Sound Full Color Video and Audio Monitor.  Just a week and half ago, my daughter was born 9 weeks early and is currently in the NICU.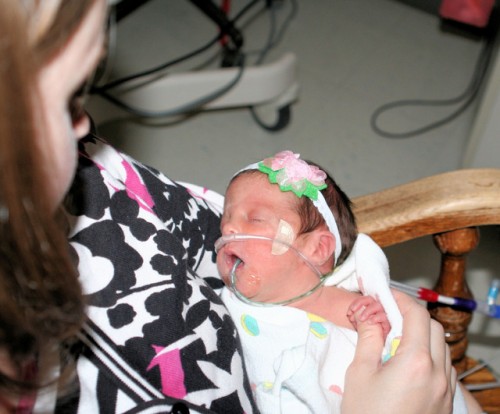 Even though I am not a first time parent, I feel like one.  She is requires a different type of care than my full term babies needed and frankly it scares my husband and I just a little bit.  Having a video baby monitor in our home to keep an eye on her when we do have to walk away from her gives both my husband and I huge peace of mind.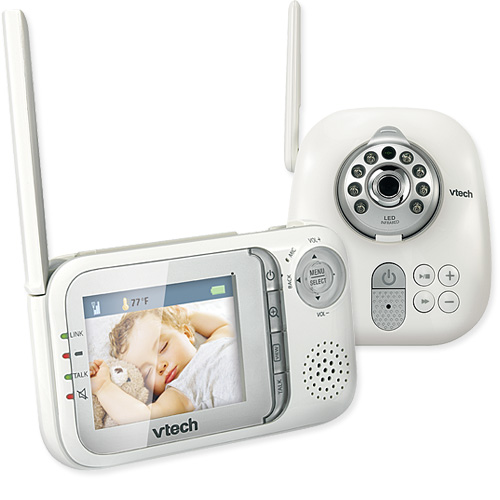 Even though Abigail is not home yet, we decided to test this system on our two year old son and love many of the unique features that are included with the unit.
First of all, the Safe & Sound Full Color Video and Audio Monitor took less than 5 minutes to set up – we just needed to charge the parent unit.  Being a busy mom, this is what I like to see with baby products.  I don't have time to spend 30 minutes to an hour setting up a video monitor system.  I also love that the unit has a rechargeable battery for the parent unit.  This is a huge lifesaver for me because it seems we go through batteries like water.  The child unit plugs into the wall and has a battery compartment for times when you need it when you are away from home.
Since Abigail is a preemie, she struggles to maintain her body temperature and the VTech monitor helps me make sure her room stays a good temperature by showing the temperature of the room on the parent monitor.  There is also a talk button on the parent monitor that allows you to talk to baby if they are upset or just in need of your voice.  We used this with my 2 year old to let him know that he needed to return to his bed.
Another wonderful feature is that fact that you can zoom in on baby.  It only allows you to zoom in one time but it does allow you to get a closer look if you need reassurance that your baby is resting peacefully.
The only feature that I would love to see added to this unit is the ability to pan the camera from the parent monitor.  This would be nice as Abigail grows and moves a lot in a crib.
Overall, the Safe & Sound Full Color Video and Audio Monitor from VTech is a great video monitoring system that gives any parent peace of mind that their baby is safe.  My husband and I have great peace of mind knowing that we can check on our precious baby any time.  You can purchase the entire system for $149.95.
VTech offers parents peace-of-mind and makes it easy to navigate the baby monitor world with a new line of Safe & Sound Baby Monitors. The new line ensures that parents won't miss a gurgle or hiccup from their little one.
WIN IT!
One Cocktails with Mom reader will win a Safe & Sound Full Color Video and Audio Monitor
Mandatory Entry: Tell me why you would like to win.
Extra Entries:– 1 entry each- leave a comment for each one.
Subscribe to Cocktails with Mom by reader or email
Like Cocktails with Mom Facebook
Like this post on Facebook and leave us a general comment
Follow Cocktails with Mom on Twitter
Tweet this message- " I just entered to win a Vtech Safe & Sound Full Color Video and Audio Monitor from @momcocktails and @Vtech http://bit.ly/H6wEGY #giveaway " 1 entry per tweet and you may tweet 2 times a day. Be sure to leave the tweet URL in your comment.
LEAVE a comment on a non-giveaway post (Come back and let me know that you did!)(can be done up to 5 times)
Rules:
Open to US only
Include email address with first entry
Winner will be chosen by random
Giveaway ends 4/13/11 at 11:59 CST
Winner will be emailed and must respond within 48 hours or another winner will be selected.
Rachael received A VTech Safe & Sound Full-Color Video and Audio Monitor in return for this review and giveaway.