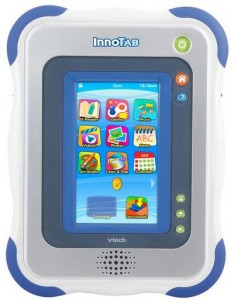 This tablet brings interactive and animated reading, educational gaming, creative activities, and a rich collection of apps to children ages 4-9.
Out of the box, InnoTab comes with a full suite of pre-loaded apps including an interactive, animated e-book, motion games, creative activities, music player, photo viewer, video player and more!
After we pulled the InnoTab out of the box and got it turned on my kids all loved it (even though it is pink/purple)?and I absolutely loved that it is both fun and educational, I am all about educational toys/games. The boys were were loving the cool touch screen; just like mama's nook and iPhone; and I was thrilled to see they were able to navigate their way through the different options on their own. The different levels were a perfect for kids of different ages and skill levels. It was fun to see what features the kids liked best. I also liked the fact that it had features that, even though my kids are different ages, each of my kids could play with it. This tablet is absolutely perfect for my 3, 5 and 6 year olds, however it was a bit childish for my 8 year old and of course my baby girl could have cared less for it. I also dislike that it doesn't come with a charger, it only takes 4 AA batteries but they die pretty quickly and I hate replacing batteries that often in my kids toys. Since we already own a couple VTech products we have an A/V adapter and I strongly suggest you pick one up if you are going to purchase the InnoTab as well!
You can download educational apps for your children very easily. Just connect the InnoTab to the computer with the included USB cord, download the learning lodge navigator and explore. This is where you can download videos, music and photos from files on your computer. If you want to purchase books and games for your child they are only $2.99, you will need an SD card to get the apps you choose onto the InnoTab though so make sure you pick up an SD card when you make your purchase.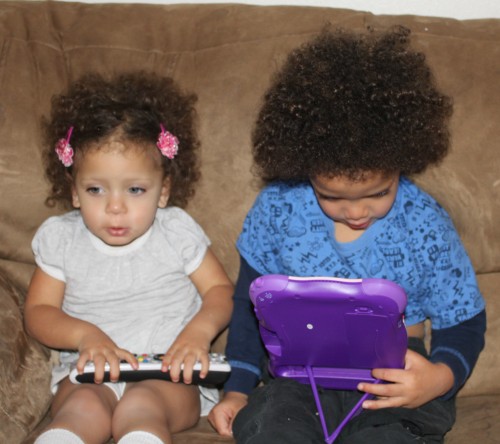 About InnoTab:
? The InnoTab is a cutting-edge, multi-function tablet for children 4-9. Packed with fun, the InnoTab offers interactive and animated e-books, learning games, creative activities and more ? all in one compact, durable tablet. Pull it out of the box ? and it?s ready to go for hours of play
? The InnoTab features:
– A 5? brilliant color touch screen LCD (industry?s first?)
– A sleek, kid-tough and compact design to take on the go
– Animated e-books, learning games, music player, video player and so much more,
– A cartridge library that features kids? favorite characters
– A tilt-sensor for game control
– 100 downloadable titles (by the end of the year)
? While adult tablets costs $600, the InnoTab is $79.99 ? a smart purchase for kids. You can give your kid a tablet designed just for them for less than your family?s monthly cell phone bill.
Product Story Themes
Kiddovation:
? Taking the hottest technology trends and bringing them to kids for the first time
? InnoTab ? first tablet for kids
? We?re bringing tech trends to kids at a dramatically accelerated rate. Gone are the days of waiting 5-10 years for a technology to be designed and launched for kids. We develop the products quickly and capitalize on the hottest trends.
Fun is the key to learning:
? Helping kids have fun (first) and learn (second)
? Laughing and learning every step of the way, keeping kids focused and entertained for hours
? Learning without trying
Technology with Training Wheels:
? Preparing kids for a tech-centric world
? Helping children develop a sense of independence
? Mom?s partner ? we stay with you throughout your child?s life ? from infant to elementary school
Smart Purchase:
? Hours of play that lasts for years at a value
? Multi-functional
? More for the child as they develop
INNOTAB FEATURES & DETAILS
1. E.Reader
2. Motion Games
3. Art Studio
4. Coloring
5. Organizer
6. Music
7. Videos (sold separately)
8. Photos (sold separately)
9. Downloads
Product Details
? 5? color touch screen and tilt-sensor for educational gameplay
? E-books, educational games, creative activities, learning apps, and more available on cartridge or as downloads from VTech Learning Lodge Navigator website
? 4 different media players: E-Book reader, MP3 music player, photo viewer and video player
? 64MB onboard memory and SD card slot for memory expansion
? Learning toy connects to PC/Mac with included USB cable
? 4AA Batteries Required
? Cost = $79.99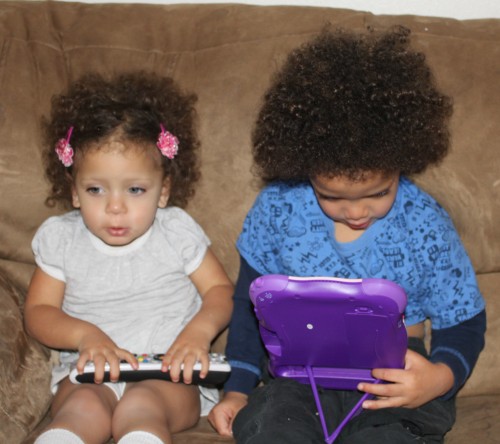 I think the cost is comparable to other kids tablets on the market but I really wish they would actually include the SD card and a/v adapter with it for a little more money. With Christmas right around the corner this would definitely be a hot item to get your kiddos.
Disclosure: We received the VTech Innotab to review, free of charge, however all thoughts expressed are 100% our own.