**This is a sponsored post for Lunchbox, LLC**
A new school year has begun and you can be sure that means a whole host of extra-curricular activities, sports and more.
I'm sure you're ready to crawl into bed, pull up the covers and shout for lights off as soon as your feet hit the threshold of your home. But however tempting that may sound, make sure you get the kids to take a good shower to sanitize themselves from head to foot, considering they would have shared more than just a few germs with their friends all day. You will also want to make sure those hairbrushes get cleaned at least twice a week to ensure they stay oil-free and clean.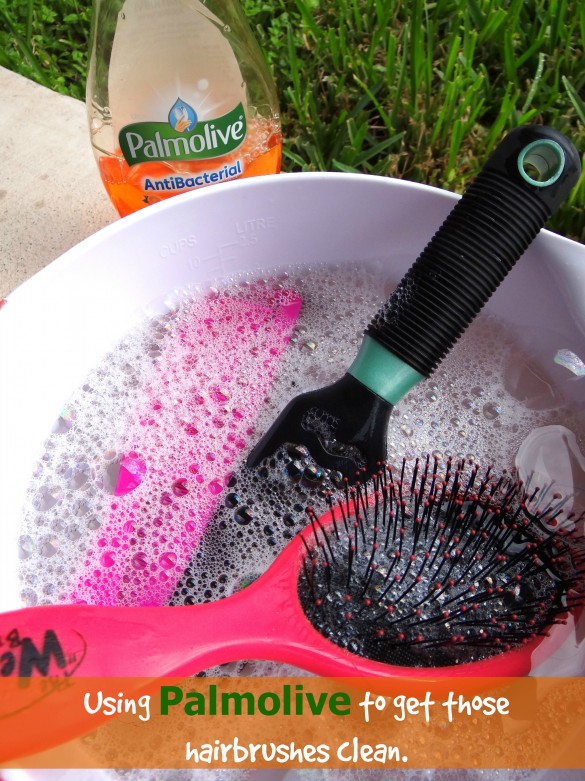 Using Palmolive to get those hairbrushes clean
Did you know you could use your Palmolive dish soap to wash and clean oily hairbrushes? Just a few drops of Palmolive in a tub of warm water, later it up and leave those hairbrushes soaking for a while. I try to leave them soaking for about 15 minutes and then run the brushes under cool water, ensuring all the soapy water is cleaned out. Dab the brushes dry with a towel or leave them out in the sun for about 2-3 hours.
Palmolive can also be used for a host of other helpful household hacks. Check out this list of 25 nifty uses for that unassuming bottle of Palmolive on your kitchen sink platform.
Before you do that, won't you take a few minutes out to enter the huge Palmolive Sweepstakes with a $2000 Walmart gift card for a grand prize?
This Sweeps also provides weekly prizes that include:
? A Palmolive Kitchen Essentials Basket
? Mainstays 10-Piece Cookware Set (ARV $39.97)
? Better Homes and Gardens Flatware Set (ARV $14.97)
? Better Homes and Gardens 16-Piece Dinnerware Set (ARV $39.92)
? Oster 7-Speed Blender (ARV $59.88)
? Oster 14-Piece Cutlery Set (ARV $22.97)
? Oster Digital Toaster Oven (ARV $77.87)
? Mainstays 3-Piece Cookie Sheet Set (ARV $10.47)
? Ultra Palmolive Original, 25 oz (ARV $3.42)
? Palmolive Antibacterial, 25 oz (ARV $3.42)
? Palmolive Soft Touch, Vitamin E, 25 oz (ARV $2.64)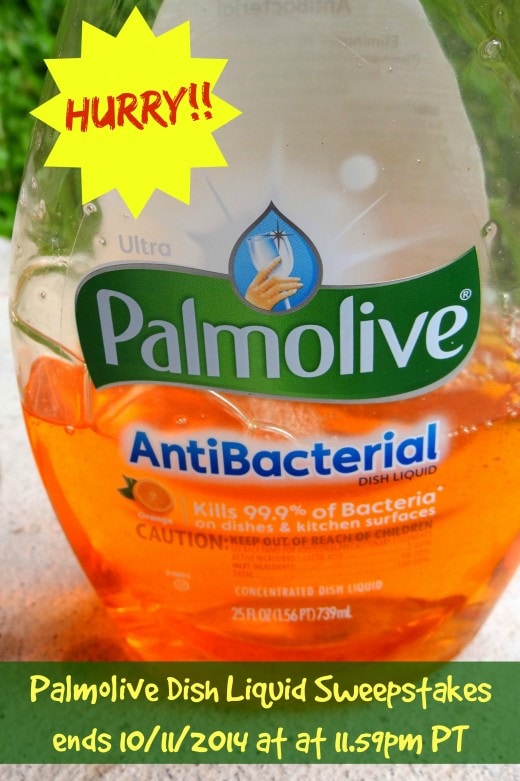 The Sweeps ends tonight, so hurry!
Once you enter, hop back here and enter our giveaway to enter for a chance to win one of five $50 Walmart gift cards.
Complete rules and regulations can be found in the Entry Form.
Disclosure: This is a sponsored post written by me on behalf of Lunchbox, LLC. I was compensated for this post, however all thoughts and opinions are my own.