Aah! Who doesn't love a day at the spa? Unfortunately, not everyone has the Benjamins to spend on frequent professional treatments. You can create a perfect therapeutic experience right in the comfort of your home, though, and you'll know exactly what's in the products when you make them yourself. Plus, if you and the crew tip back one glass of champagne too many, you're safe! Here's your guide to an at-home spa day.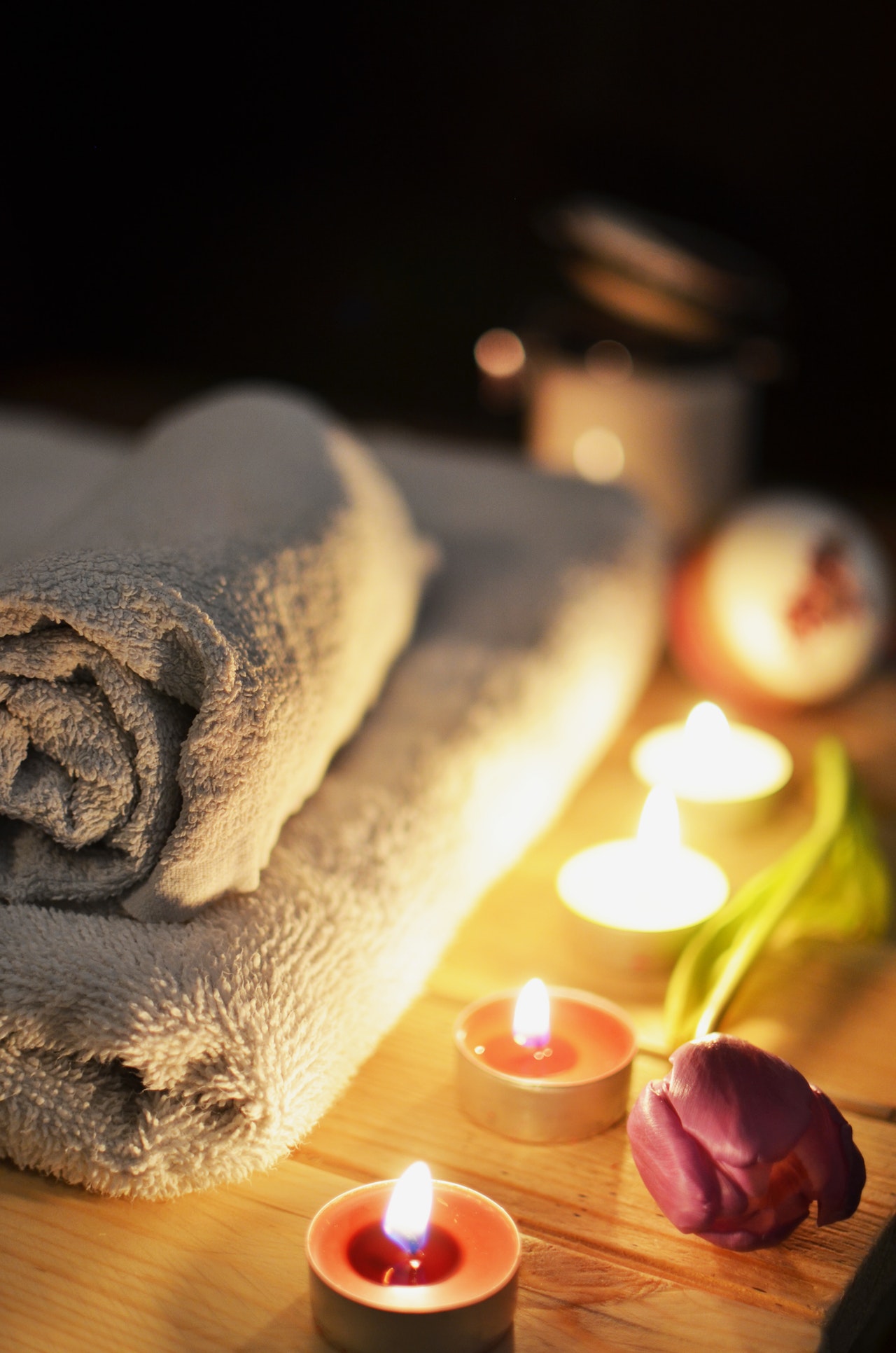 1. Create Your Invite List
Invitations let you know exactly how many goodies you'll need. Plus, you can create homemade designs that are beyond adorable. Ask guests to RSVP at least a week before the big day. That way, you're not scrambling to get to the store for last-minute supplies after a long day at work.
2. Make It Easy for Guests to Enter
Consider the inside of your home. Is it inviting and warm? Can people get around easily? If you're inviting a lot of friends over, clear a dedicated area for guests to sit, and leave ample extra room so that everyone feels comfortable. Consider adding some cheap or DIY decorations in your spa space to make things feel inviting!
3. Whip Up Some Supplies
Sure, you can buy natural beauty products online or in retail stores, but many of the best cost a small fortune. Instead, invest in some coconut oil for a base and a few drops of lavender essential oil to make a soothing massage mixture. You can also blend simple sugar with the coconut oil to make an easy exfoliant. Create homemade face masks and more with recipes you discover online. You'll save a fortune and rest assured your treatments don't contain plastic microbeads or other nasty ingredients.
4. Set the Mood
You won't hear Five Finger Death Punch playing at a spa or see harsh fluorescents overhead. Make a relaxation playlist to get guests in the mood. Dim the lights and turn on some battery-operated candles to create ambiance. Plugin your aromatherapy diffuser and add some sandalwood or patchouli essential oil to recreate that signature tension-easing scent.
5. Warm Tons of Towels
You want to enjoy your time with your squad, not run back and forth to your dryer constantly. To create salon-style hot towels, dampen a ton of them and add a few drops of essential oil. Divide them among several Pyrex dishes and put each bunch in the microwave for 30 seconds to warm them up. Use caution — they can get hot!
To keep them warm, simply place the dishes in the oven, taking them out to cool as needed. Alternately make a pot of clear water in your coffee pot and pour it over your towels to reheat them before use.
6. Add Rose Petals to Water Basins
Pedicures make your feet look and feel fabulous. You can pick up clean cat litter boxes on the cheap at any department store. Make them elegant to soak callouses in by picking some roses from your garden and scattering the petals in the water. Doing a personal spa day for yourself alone? Sprinkle your favorite flowers in your bathtub and add some waterproof electric candles for one luxurious soak.
7. Start with Exfoliating
You want to prep your skin before adding lotions and oils, so start with exfoliating. You can use a heavy-duty oatmeal scrub to slough rough patches off feet and elbows. Use a gentler sugar version on your face.
If your skin is very sensitive, pass on mechanical exfoliation methods. While safe on most complexions, they can hurt if yours is delicate or crepey. Instead, opt for a liquid AHA exfoliant if your skin is dry or BHA if you're prone to acne.
8. Mask It Up
Once your skin is scrubbed and shiny, apply a homemade mask to replace moisture and bathe your complexion in vital nutrients. Ingredients like avocado and yogurt (use a vegan version for folks who follow the lifestyle) replenish dry faces. Use charcoal or clay masks if you're acne-prone.
9. Relax and Enjoy!
Finally, your at-home spa day is all about relaxing. Pour yourself a glass of champagne or sip cups of herbal tea if you and your friends prefer to abstain. Have fun, get silly and enjoy!
At-Home Spa Days Rock
Everyone needs a little pampering now and then. You don't have to spend a bankroll to enjoy a spa day. Follow a few simple tips to enjoy a therapeutic experience with your closest friends or simply treat yourself.