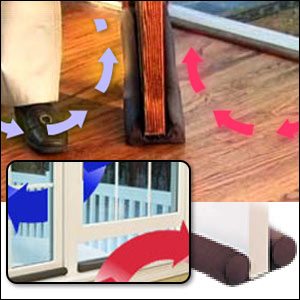 We purchased a house in Southeast Alabama in November 2009 and living in the south things aren't as weather tight as they are in the north or midwest where I grew up.? It's unusual to find double pane windows or tight doors so I found our house was rather drafty and sitting in the living room I could see sunlight coming in under the door.? Now I know why I was always cold last winter.
When I was asked to review the Twin Draft Guard that I'd seen advertised on TV I jumped at the chance.? The Twin Draft Guard is a rather neat idea.? Rather than a long snake that sits in front of your door that has to be moved whenever you want to open the door it's fits UNDER the door with styrofoam tubes that fit into cloth channels on both sides of the door.? Neat, now it moves with the door and keeps drafts out in the winter and the cool in during the summer.? A great way to help cut your energy bill and a lot cheaper than buying a new door.
The main part of the Twin Draft Guard is cloth with velcro at one end that allows you to fold the end over so it will fit the width of the door.? The styrofoam tubes can be cut to the length needed but for me there was no cutting needed since they were the perfect length when I removed them from the box.
Since this was the first snow we've had in this part of the country in 17 years or at least the first measurable snow you can imagine how cold it got down her this winter and I did notice a that my living room wasn't as drafty as it was last year and I wasn't needing to sit under the blanket just to watch TV in the evening.
The Twin Draft Guard can be purchased at CVS, Walmart and Walgreens for $9.99
A product was received for review. I was not paid in any form of cash for this posting. The opinions expressed are my own and were NOT influenced in any way.