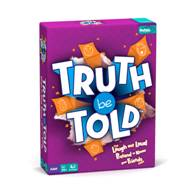 When it comes to board games, the funnier the better in my opinion.  We like to laugh, and we like to laugh hard.
We recently reviewed the uproariously funny game, Truth be Told, from Buffalo Games.  Buffalo Games, Inc. is the award-winning American manufacturer of  party board games and puzzles.
About the game: "Truth be Told is a revealing new laugh-out-loud, pretend to know your friends party game!  Each round, one of the players is the Host, and plays a question card such
as, "Truth Be Told, my favorite snack is _________."  The Host writes a truthful answer – pork rinds.  All other players pretend to be the Host, and write bluff answers –which seems like something the Host wrote –  pretzels, prunes, sardines.  The Host collects and reads all answers aloud, and players try to guess the True Answer to score points.  Bluff answers score points too – so there are a lot of ways to win, and a lot of hooting, snickering and giggling along the way! How to play video.
Some of the questions are on the serious side, like, "I would go back to school for _______."  But others were just downright funny, like, "The most annoying thing someone said to me recently was  ________." or "I am always late for _________."  Even funnier than the questions are the answers.   Like, "I am always late for a nap."  Spoken like a Mom!  LOL.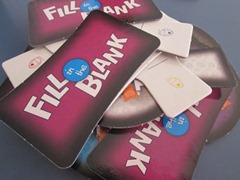 There are 564  Truth be Told Questions (on 141 cards), which makes for some fun evenings!  Play it with your family, play it with your friends.  I think we might even use it for a couples night out party!  The game includes the 141 cards with questions, 8 markers, 8 Fill in the Blank Cards, 8 Paddles, 1 Scoreboard, Instructions.   My only suggestion is to hide the markers from your kids.  LOL.
Truth be Told, and other Buffalo Games products are available nationwide retailers that include: Walmart, Target, Kmart, Barnes & Noble and Amazon.