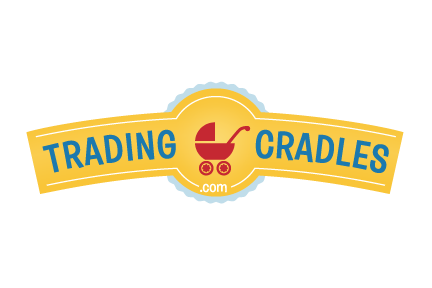 If you?re a mom, you should already know how fast kids can grow.? One moment they?re infants, then toddlers and then ever growing little people.?? They outgrow clothes, toys and sometimes personalities which can make shopping often and quite expensive.? You then find yourself with this accumulation of things, they can no longer use or wear but for some unknown reason you are holding onto.
Some of you may?like me?may have considered a yard sale, but who really wants to do that or has the time?? Not me!? I can find better things to do with my time.? When things however, do get out of control, I have to take action and we do.? Usually I would donate my kids too small clothing and toys to various organizations in my area which is a great option and always makes me feel good.
I did; however, learn of another option recently. ?It?s a site called TradingCradles.com, which basically is an online marketplace designed for parents to buy and sell gently used items that your kids may have outgrown.? I?ve heard of places like these but never really knew how they worked but from what I learned about Trading Candles is that the process very fast ?and easy? that would suit any busy lifestyle.? ?Their website is geared so that you can buy and sell in one place. ??Best part about it is that it?s simple, fast, and FREE with no registration required to list or buy items.

I know lots of folks love eBay and Craigs lists and you can always go the route.? But why would you?? Trading Cradles has no fees to deal with and they work on eliminating any possible spammers.? ?They help you sell your children?s items in a safe, moderated environment in the comfort of your home.? And since you are connected with local buyers, you can save a lot on shipping also.
Listing an item for sale on the site is simple.? It typically takes no more than 30 seconds ?to ?post a free ad? ?and selecting ?the category that is best suited for your item.? One you?ve completed the short ad form, you can preview it, make changes or submit for approval.? Since the sole purpose is to keep? Trading Cradles.com a safe and secure website for its users, each ad is reviewed and moderated by the Parental team before they are live on the website.? Trading Cradles know we are all ?busy moms? so the ads are kept short and to the point. ??Well imagine Twitter for shopping, all ads are 250 characters or less just like you would send out a tweet to your friends. ?Simple,Fast, and Fun.
So whether you?re in the market to buy or sell gently used items you may want to consider Trading Cradles.com. ??Kids grow super fast and we can all benefit from a great deals or extra cash.? You can find things like Used Baby Gear?, Gently Used Strollers ?and more.??So for all?you bargain shoppers I know are gonna check this site out, please let us know what great deals you find and come back to let us know!
Happy Shopping!.
You can find Trading Cradles on the Web at www.tradingcradles.com, on Facebook, and Twitter.
Disclosure ? This is a sponsored post on behalf of Trading Cradles. Opinions expressed are my own.