I?m getting older, my kids are getting older, and it is time I sit down and get my financial stuff together. It?s so easy to go throughout life not really paying attention to the financial side of things. It?s one thing to have ends meet, but it?s another to actually financially plan for the future. I?m at that stage now?planning for the future.
If we were to have a conversation about finances, a few months ago, I would have said that I had a fairly good grip on my finances. I am good at making ends meets, I get the things I want, and I sometimes I even get on top of my budget. But unfortunately, when an unexpected emergency hits, I am put back a couple of months at a time. It has happened before and I?m sure there?s a good likelihood more unexpected instances will occur. I mean, life happens, but I no longer want to just get-by. I want to bring my financial status to another level?Strong and Solid.

That?s why I was excited to try out SUM180. This is an awesome way to financial plan because SUM180 wants to make financial planning simple, affordable, and even fun – for every woman, wherever she is on her financial journey.
So what exactly is SUM180?
SUM180 is a financial tool that securely takes all your pertinent financial information, like income, assets, and bills, and creates a personal plan for you to help achieve your financial goals. You get helpful advice that you can actually understand and implement easily. More interestingly, SUM180 is a financial planning platform for women, particularly ones 45 and older.
I recently went online to SUM180 and filled out a short questionnaire, which asked for information like my income, expenses, debt, investments and life insurance. I then received an 11-page financial plan based on the answers I provided in the questionnaire. I also did a quick phone interview, but this was to ensure all of my information was accurate. The overall process was quick, easy, and painless.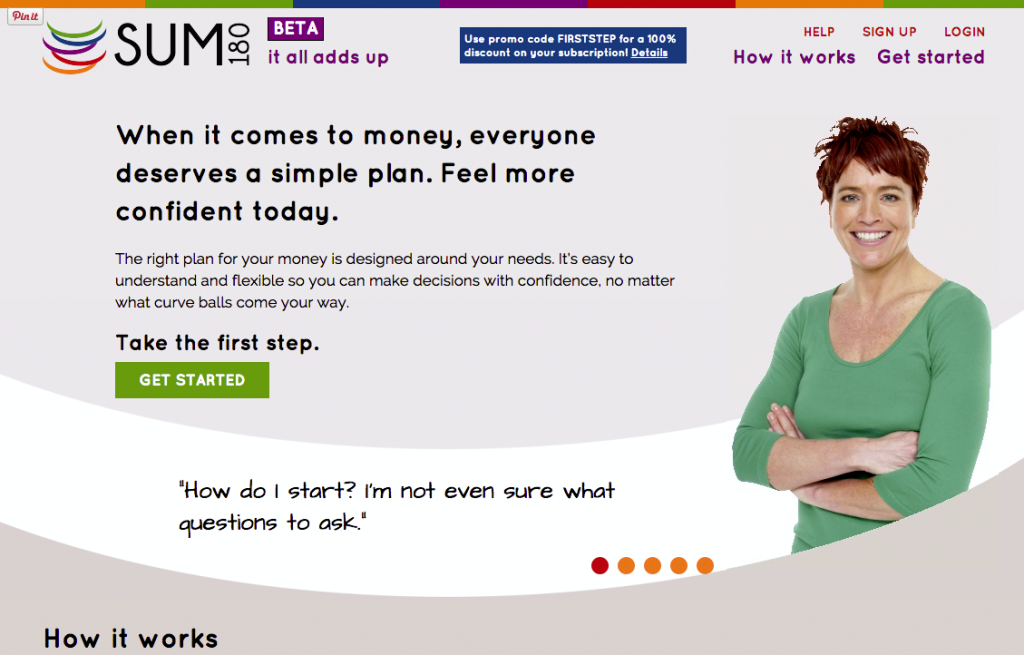 Focus on 3 Steps at a Time
I think one of the best parts of SUM180 is that they meet you where you are! Your financial plan is personalized just FOR YOU. It?s an empowering process because you focus on three financial steps at a time. I get so overwhelmed looking at the whole picture, so it?s nice to do just a few steps at a time. For those of us who have been tuned out of our financial goals for a long time, SUM180 is so helpful.
The Right Tools
I didn?t feel like SUM180 was trying to school me in the world of financing. SUM180 gave me the actual tools I needed to make my financial goals a success. I?m obviously still working on those goals. And the best part is that SUM180 doesn?t try to ?sell? you anything. They are not focused on trying to sell you something you don?t need.
Why not give it a try?
You?ll notice that SUM180 is very user friendly and affordable. If you?re looking for a way to get your finances back on track and to have a financial plan, you definitely want to check out SUM180. This tool isn?t just for those of us who aren?t great at planning, it?s for those who are also great at planning, they do not discriminate.
After going through this process, I feel a sense of relief and not so overwhelmed by the word finances anymore. Having a plan makes me feel more secure. And, I love that my plan is personalized for ME. Everything is customized to you and for you.
Ready for your own financial check-up? SUM180 is offering a special promotion for a limited time! Use code SPRING1 and get 50% off the current product offer.
I?m happy to have had this opportunity and I look forward to a healthy financial future.
This post has been sponsored by SUM180. I was provided with product at no charge to sample in exchange for my review. The options expressed in this post are my own. I am in no way affiliated with SUM180 and do not earn a commission or percent of sales.