Christmas is the most wonderful and exciting time of the year and also a great opportunity to brighten up your home with flowers!  Whether you choose to brighten up your home with pre-made centerpieces, Christmas figurines, mini Christmas trees, blinking lights, or a totally decked out real live Christmas tree, Christmas decorations make any home merrier and add a festive look.
Decorating the house for Christmas has always been a tradition in our family and it is something we look forward to doing each year.  Since my family and I were heading back home to celebrate Christmas this year, I thought it would be nice to surprise my mother with a lovely Thomas Kinkade's Winter Wonder Bouquet by Teleflora.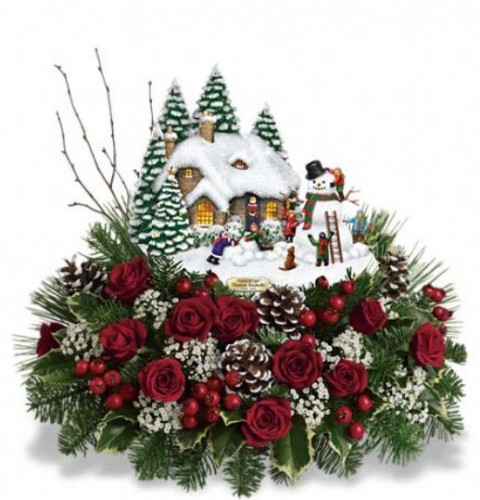 I had the arrangement delivered directly to my mom's house so I didn't get the chance to see the arrangement in person until I arrived and was going solely on the picture that was on the website…. so I couldn't wait to see it firsthand.   According to my sister, the arrangement arrived as scheduled and on time.  Within minutes of its arrival, she immediately texted me with a picture saying how beautiful it was.  Shortly after the text, I received a phone call from her and my mom reiterating again just how beautiful it was. I could clearly hear the excitement in their voices!
When I finally arrived to see it for myself, I was not disappointed.  This display was absolutely gorgeous in every way. It is even more beautiful in person and added a welcoming accent to the dining table where we had it displayed.  The flowers were beautifully arranged and were so fresh. There was nothing about the arrangement that was not perfect.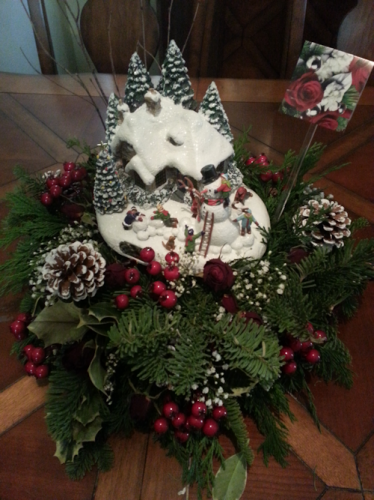 The arrangement was all I expected and more.  It turned out to be a perfect Christmas gift and beautiful in every way. I never expected it to light up so that was such a bonus!  What is also neat about this centerpiece is that in addition to the beautiful bouquet of flowers there is a collectible cottage nestled in the center which  can be kept as a nice keepsake after the arrangement is gone.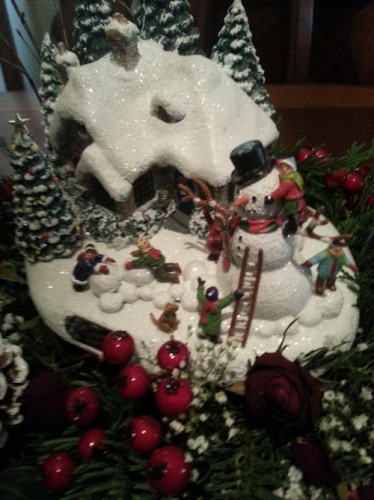 Teleflora has a wide variety of beautiful arrangements, gift baskets and lovely vases to choose from.  Likewise, if you want something more than just flowers, Teleflora also has some combination baskets with fruit, candy, and other items to choose from as well. They really are a good gift idea for any occasion or as a just because!!
Purchase the Winter Wonder Bouquet from Teleflora starting at $79.95
A free sample was provided by Teleflora for this review.