Fitness has always been a key part of my life, especially post-children so I am always looking for new ways to tighten up and stay in shape. There are some routines that have worked for me and then there are some that I could just not stick with. So now it's time to try something new.
This ultimate body weight routine will help you to kick start working towards having a more toned, strong and healthier physique all around.
Ready to get started?? Great…Let's do this!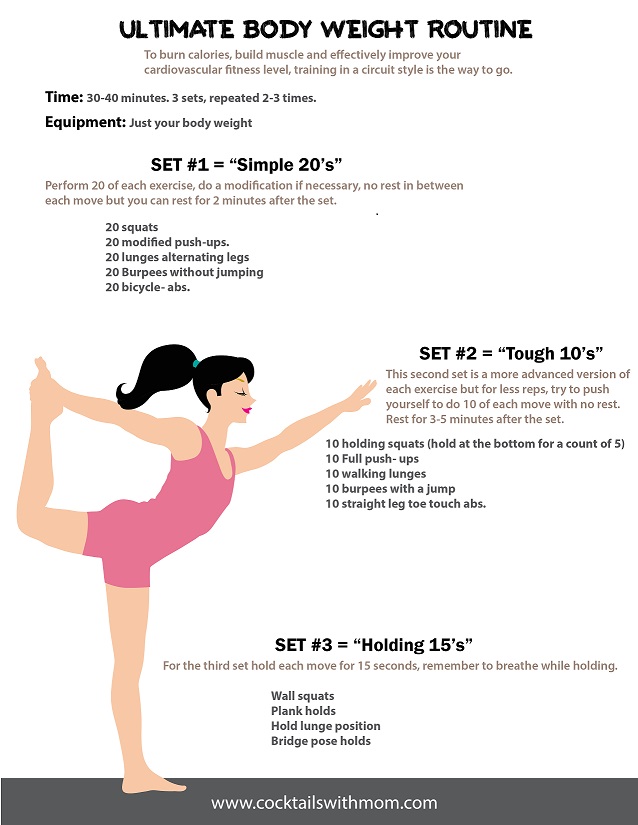 I would suggest you give this routine some time, take a deep breath and let go of whatever massive expectations you had for yourself. As with any workout routine or fitness plan, putting together obtainable and realistic goals is one of the most important things you can do for yourself.
I hope this simple workout routine help to encourage you to make exercise a part of your weekly routine and you start enjoying the benefits of? having a more toned, strong and healthier physique all around.?
Don't forget to get your free downloadable copy of the Ultimate Body Weight Routine HERE.
This exercise routine comes courtesy of Samantha Clayton,Senior Director of Fitness Education at Herbalife. The printable is courtesy of CocktailsWithMom.com.? Feel free to print your copy and share with your friends.