Trying to find the best Father's Day gift can be hard at times when you have no idea of what to get a Dad who has almost everything.  I don't usually have such a hard time choosing for my husband but sometimes I just like to get him something different that he would not always expect.  If you are one who has a hard time finding a gift for your husband or dad,  take a look  at Cookies by Design .  They really have  some great ideas.
Cookies by Design – a national franchise with 120 stores throughout the country – offers a full range of Father's Day-themed cookie bouquets, sheet cookies, cookie cakes and gourmet cookie trays, ranging from $16 – $100+, including favorites such as the
"A Toast to Dad" cookie bouquet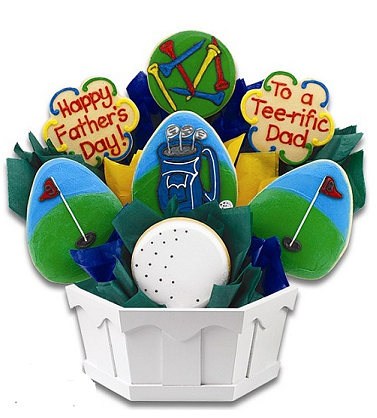 and Dad Appreciation Highway cookie bouquets.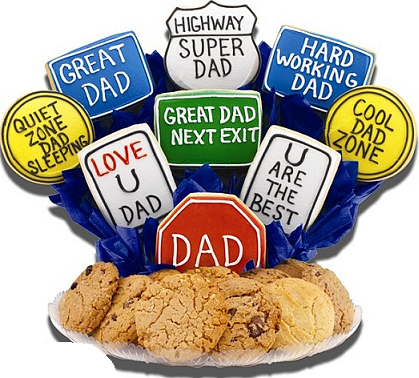 The complete line of Father's Day cookie gifts can be viewed online  and can be customized by shape, color, photo and message to make it an especially thoughtful gift for dad!
In addition, Cookies by Design is running a Father's Day giveaway on Facebook for free cookies for a year or two sporting event tickets of your choice (NFL, MLB or PGA event). Be sure to check that out.
Since my hubs love to grill and is very good at it by the way , I thought that the King of the Grill Cookie Bouquet was a great idea for him.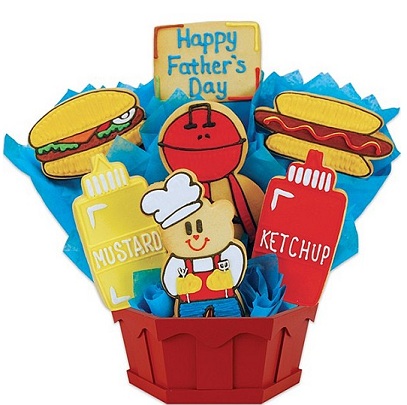 When the basket arrived, I was impressed with the quality and appearance of the basket.  Not only was it full of tempting sweet goodies the display was real nice.  So nice that the kids could not wait to surprise dad and became quite anxious.
Cookies by Design has some really great SWEET gift options for the men in your life.  I love all the themes they have and one can easily find something that fits the receivers personality.  Another neat option is that they offer same day/next day delivery.  I was surprised as to how fast I received our bouquet.   So if you still need a last minute gift for dad, you still have time, but hurry becaus Father's Day is June 19th.
Be sure to also check out the other cookie designs they offer such as Graduation, Baby, Get Well and Birthday to name a few.
Happy Shopping!