When it comes to doing laundry,  it is definitely one of those chores that never seems to end.  Especially if you're that person who cannot seem to overlook a basket piling up with clothes and just have to do it now and cannot wait till the weekend.  I'm that person.  I'd  rather just get it done and not be faced with washing 3 loads, instead ofe one, and have to spend my weekend doing laundry.      The problem with that is, there is not always enough clothes to make a full load… which brings me to two different categories you may fall in when it comes to doing the laundry.  First you have the type that will carefully take the time to separate the whites from the colors.  Then there's the type, that will throw whatsever in the bin and hope for the best.
I don't know about you, but I have been guilty of the latter a few times and have my share of  pinkish colored socks and tinged blue t-shirts to prove it.  Let's face it! Sometimes, you just want to get it done, but that can come with a nifty price in the long run.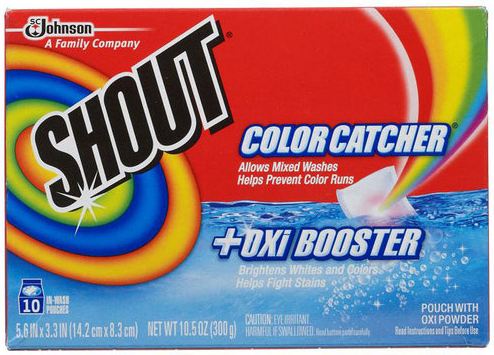 Thanks to Shout Color Catcher With Oxi, the worry of mixing darker colors with light fabrics may be a thing of the past.  Designed to absorb and trap loose dyes in your wash, you can simply toss one of the little pouches with Oxi Powder into the wash and it will protect your clothes against color bleeds and help preserve the original color.  I put these little pouches to the test and I was surprised at how good they actually worked.  Mind you, I was a bit skeptical at first but it has proven to work really well.  I was really surprised to see the whites that I combined in the batch of colored clothes to come as if they were washed separately.  What amazed me is that although the whiles were stain free, the color patch that was used while laundering came out tinged blue.  My guess is that it attracted all of the dye away from the clothing as the product claimed it would do.  Now that I know how the color catch patches work first hand, it gives me a sigh of relief knowing that if I ever accidently or purposely combine different colors in my wash, they will come out disaster free.  My only issue now is to actually remember to  USE the Color Catcher Packets!
What about you, are you looking for ways to simplify doing your laundry? Visit the Shout website for more information and find out ways Shout Color Catcher sheets can help you save time and money.   Shout is currently offering downloadable  coupons on their Facebook page for both Shout Color Catcher with Oxi and Shout Free.
I am giving TWO of my readers the chance to win their own samples of  Shout Color Catcher With Oxi.  Entering is easy. Simply leave a comment sharing with us one a laundry tip or one of your laundry disaster stories.
Rules
Open to US
Winner will be chosen by random.  Giveaway ends 1/31/01 at   10a.m.  CST.
Winner will be contacted via email and have 48 hours to respond or a new winner will be selected! Cocktials with Mom is not responsible for prizes not fulfilled by the vendor.
I wrote this review while participating in a campaign by Mom Central Consulting on behalf of Shout and received a product sample to facilitate my review and a promotional item to thank me for taking the time to participate.