I'm beginning to think of myself as a smoothie snob.  I LOVE them and have tried all kinds of concoctions.  The thing is…they have to be the perfect conbination of ingredients and have a smooth creamy texture.  At first it may take a few tries to get it just right but I've had enough experience that it comes out perfect everytime.  I've tried many flavors….some I can say I've loved and some have left me with something more to desire.  This is one reason I love sticking to the basics.  A simple recipe always keep me wanting more.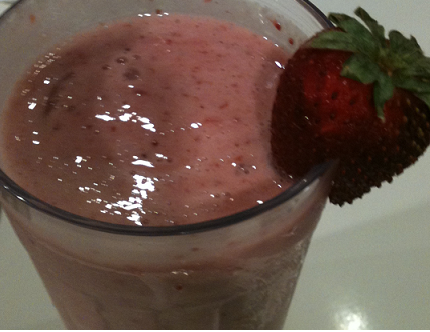 One of my favorites is the Strawberry Smoothie.  Very basic and simple to make.  I love this recipe for a few reasons.
1.  It's great for us busy moms who can prepare a nice healthy snack in short amount of time.
2. It only requires 3 Simple Ingredients
3 cups frozen strawberries
1 cup yogurt frozen
½ to 1 cup milk (depending on the consistency you desire)
3. Easy Directions:
1. Add the yogurt, strawberries and milk into the blender.
2. Place the blender lid on tightly. Blend on high for about
1 ½ minutes until it is smooth and creamy to your liking.
4. Let sit for about 1 minute, pour and ENJOY!
5. It's so so DELICIOUS and probaly my all time favorite
Like I mentioned, this recipe is very simple, so you can add to it and make your own varitions but really you don't need all the extra bolts and whistles for this one.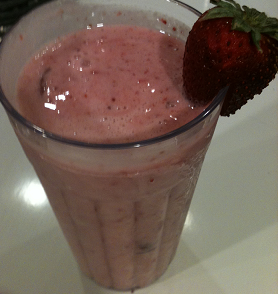 Now tell me…what is your favorite smoothie?