Eating healthy is an option for everyone, no matter how busy their lifestyle. Making changes over time is the way to ensure that the path into a healthy lifestyle is guaranteed and will become a permanent fixture in the daily routine. Meal planning, buying a variety of healthy foods and doing some prep work on weekends will also facilitate the transition into making healthy meals, particularly lunches and dinners, during the rest of the week.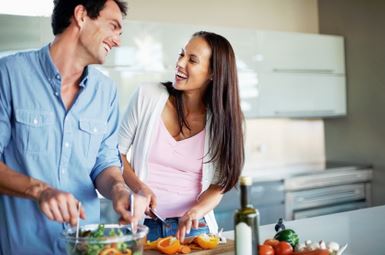 Plan ahead
Planning meals ahead of time is one way to make sure that healthy meals will be had for the rest of the week. It is also a great time saver over the long run, since the biggest time investment will be done during the planning. Looking on the web is the easiest way to find quick meal ideas. There are many sources for healthy meals. Sitting down Saturday mornings and planning meals for the rest of the week will generate a grocery list with everything that is needed. Planning a variety of healthy, tasty meals means there is less temptation to eat out or eat unhealthy meals.
Mix Things Up
Buying a variety of healthy foods is another way to make sure that the meals and snacks available at home are healthy and appetizing. When the time comes to cook dinner or lunch, it is a lot easier to make healthy meals if all the ingredients are available in the pantry. This also helps with impulsive snacking, since the options available will be appealing but healthy. Again, this takes a little planning and goes perfect with meal planning before grocery shopping.
Prepare Ahead
Investing a little more time during the weekend to prepare some of the basic meal elements is also vital to sticking to a healthy meal plan. It is easy to figure out how much of each vegetable will be needed if the meals are planned ahead of time, so that the vegetables can be washed, cut up and stored already measured in the right portion. If rice is involved, it can be cooked ahead of time and stored for the week. Meat can be cut, seasoned and frozen. This will severely cut down prep time when making each meal.
Healthy eating is not impossible, even if time is a precious commodity. Just a little planning ahead can make the difference between eating healthy permanently and struggling about making healthier meals. In the end, eating healthy can actually become simpler and much less time consuming than the alternatives.