Picking out Halloween costumes has always been a fun tradition that we always look forward to doing as a family. Every year just before it?s time to start knocking on some doors for candy, we are always faced with the the question ?what are we going to wear for Halloween?!? My kids love dressing up and I get a kick out of them trying to pick out the perfect costume.

This year, I?ve found a fantastic new way to find a costume for the boys and my god-daughter Nyia, who at times is extremely picky and craves to be original in everything they do, and Halloween costumes are definitely no exception. Since the boys are a bit older now, they basically know what they want to dress up as and usually have a short list to choose from. Nyia, on the other hand, is a bit more picky and takes up more time so finding out about the Kmart Kreator, I had high hopes of finding a costume she would love.
Using the Kmart Kreator, we spent a whole two hours giggling and laughing as we created crazy and imaginative costumes. It was fun, interactive and an easy way to customize her costume. We played around with several costumes before deciding on the one. It was so fun, I had to stop her after a while from having a go at it again so she wouldn't create something new altogether again. Luckily, at the end of our two hour laughing spree she did sober up and created an evil witch costume that she loved.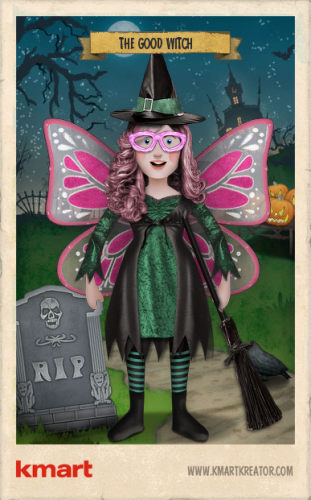 Although Nyia has dressed up as a fairy and little-red-riding hood in the past; she thought she'd try something different this year and this witch costume with web throwing cuffs is definitely more her style.
To give her costume my own little tweak I?m planning to spray paint a wicker basket in black and adorn it with some old potpourri to give it some ?witch? personality. We?ve also ordered some spooky decorations for our front yard so the whole family can spend quality time putting them up. Kmart is a fantastic source for finding everything you need to make your Halloween party unique and provides countless d?cor items to choose from.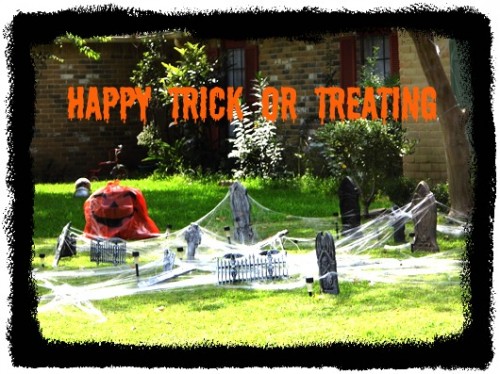 If Halloween is as big a deal in your house, then you sould check out Kmart asap. Whether you are getting a head start on holiday shopping, or are searching for those hard to find items, Kmart is your one stop shop! Their variety and prices can't be beat, not to mention the Free Shipping on Halloween orders $39.99 and more . Ready for some trick or treating? Then be sure to visit the Kmart Costume Shop and celebrate Halloween like never before.
Using Kmart's Kreator is helping me create a fun and memorable Halloween for my family. Try it for yourself! Find all your Halloween needs at Kmart's Halloween Shop.
This is a sponsored conversation written by me on behalf of Kmart. The opinions and text are all mine. Official Kmart Halloween Sweepstakes Rules.
Comment below to win one (1) of five (5) $100 Kmart gift-cards!