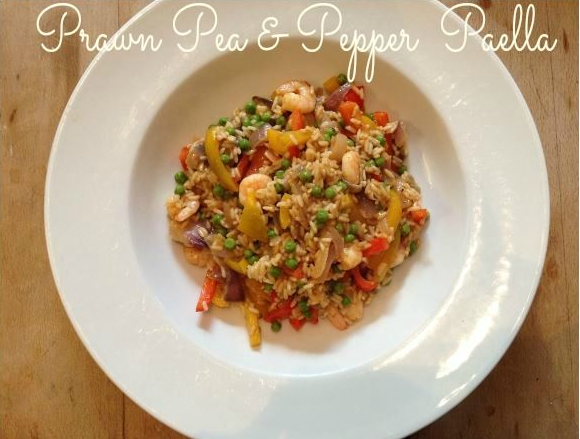 I've got a Moroccan inspired dish for you today, recently I can't get enough of Moroccan flavours, I adore spicy food and the rich, warm flavours. Last week I fancied changing things up a bit, I eat a lot of chicken but I decided to pick up some prawns as they were on offer and I both me and my boyfriend, Dano love them! I added the peppers and peas to the dish to give it a bit of colour and to up my daily vegetable count! This comes in at 494 calories each.
Ingredients – Serves 2
180g King Prawns
1 Teaspoon Cayenne Pepper
1 Teaspoon Ground Coriander
1 Teaspoon Cumin
1 Lemon, juiced
1 Tablespoon of Olive Oil
150g Long Grain Rice
600ml Hot Chicken Stock
1 Red Onion, finely sliced
1 Birds Eye Chilli, finely chopped
1 Garlic Clove, finely chopped
2 Peppers, finely sliced
160g Petit Pois, cooked according to package instructions
Salt and Pepper to season
Method – Takes about 25 minutes plus marinating time
1. Marinade the prawns in the spices and the lemon juice for at least 2 hours but preferably overnight.
2. Heat half the oil in a large frying pan on a medium heat, add the rice and stir until coated in the oil. Add the stock one ladle full at a time, wait to add the next until the first has been absorbed by the rice, keep stirring.
3. While the rice is cooking. Heat the remaining oil in pan on a medium heat and add the onion and peppers, stir fry for a few minutes until they are starting to go soft and turn brown, add the garlic and chilli and fry for a further minute. Add the prawns and cook for a further two minutes.
4. Once the rice has absorbed all the stock add the vegetables and prawns to the rice, add the peas, season with salt and pepper and taste. If the rice is still not cooked, put the paella on a low heat and keep stirring until the rice is cooked through, adding water if necessary. Serve!
Save