Football season is underway and around here that means awesome football parties! Raised by a dad who loved football and married to a guy who loves the sport just as much, I have been unable to escape the madness! In fact, you can find me on most Sunday's right there, cheering on my team. As part of being big football fans, we also like to host several games throughout the season and invite our closet family and friends. We like to go all out in the name of fun, but always have one requirement when you come over.
Just bring your

team spirit

and a nice appetite!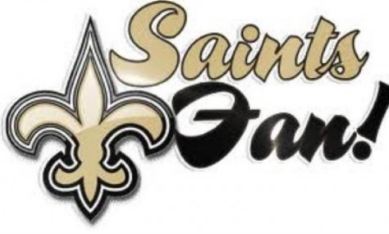 Good food is always a part of our gatherings but I don't normally serve up anything more than finger foods that can be eaten with your hands or with as few utensils as possible. This keeps down the trash and clean-up factor and the fancy stuff is left for another time. Our usual game day menu may consist of burgers, chips, sweet treats and an always crowd favorite, hots dogs!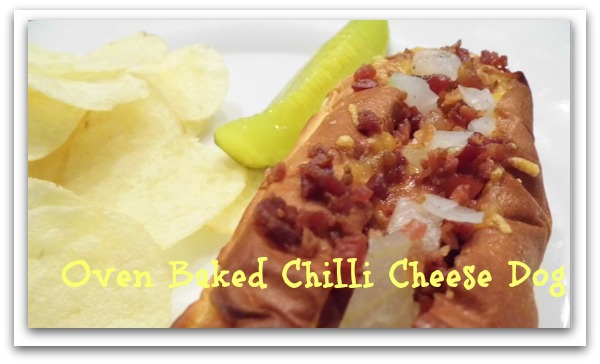 Hot dogs are always a hit with both the kids and adults. We've tried many variations and one of our favorites is what I like to call the Crowd Pleasing Oven Baked Chilli Cheese Dogs. It's nothing fancy, just a simply delicious hot dog baked in the oven with some of our favorite toppings. My sister introduced this recipe to me and after trying this variation, the way I cook hot dogs have been forever changed. My new secret to this awesomeness is the King's Hawaiian hot dog buns. I've tried many dogs on many different buns but King's Hawaiian buns are now my new favorite. Add in the mayo and it just does something wonderful to the buns…crispy on the outside and soft/buttery on the inside. A big hit with the crowd and absolutely terrific!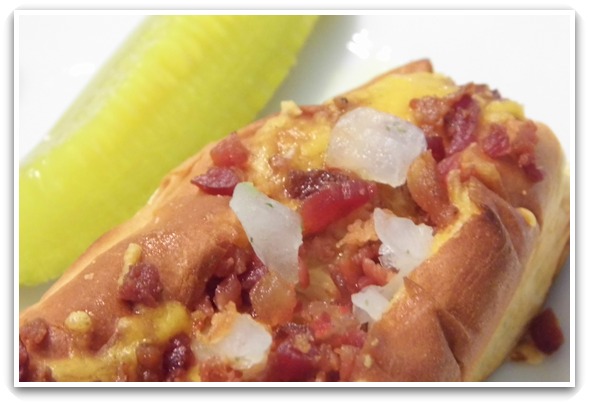 Try them on your next hot dog and I assure you the end result will be amazing. You might have to scour around town to find them but you'll love them when you do. Here is their store locator.

Crowd Pleasing Oven Baked Chili Cheese Dogs
Ingredients
8 hot dogs
1 pack of KING'S HAWAIIAN Sweet Hot Dog Buns
1½ cup of mild cheddar cheese, grated
8 strips of fully cooked bacon (or your favorite bacon pieces)
½ cup of onions (I dice them, it's easier to eat)
1 can of chili
mayonnaise
mustard
Instructions
Cook hot dogs on top of stove for about 5 minutes. The hot dogs will cook in the oven but I like to pre-cook them slightly to speed things up a bit. Line the bun with mayo and mustard, then place hot dog in bun. Add chili and sprinkle cheese and onions to your liking. Put in oven for 5 minutes to melt cheese. Then add some bacon and onions. This really makes a plain hot dog a much tastier one.
Take prepared hot dogs and place into oven safe dish and bake at 350 degrees for 10-15 until cheese melts.
Notes
A couple things: 1. Make sure the dish is covered well before placing it into the oven. 2. Do not overbake.
KING'S HAWAIIAN has an all-star line-up of sandwich products which includes: Mini Sub Rolls, Sandwich Buns, and Hamburger Buns and Hotdog buns.
Whether you are at your kid's game or the stadium, KING'S HAWAIIAN is a great choice for a family tailgate.
What is your family's favorite part of game day? Comment below and be entered for a chance to win $200 to put towards your next game day event.
This is a sponsored conversation written by me on behalf of Kings Hawaiian. The opinions and text are all mine. Official Sweepstakes Rules.