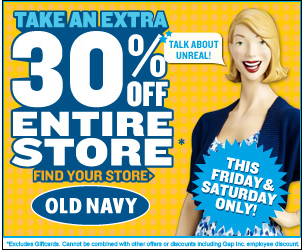 Hi Ladies…Good News!? Did you hear about the sale going on at Old Navy this weekend?
Old Navy is hosting a 2-Day Super Sale Friday and Saturday (1/29-1/30 only) and?shoppers will?get 30% off on every single item in the stores with the exception of gift cards.??? The great part about this is… items already on sale are eligible also for even greater savings.?? If you want to really save, this is a great time to take advantage of the sale and shop 'til you drop.??? Everything from?new jeans, tops, accessories, workout gear – presto, bingo? are all on sale at a 30% savings.?? If the new?floral spring top catches your?eye?? get it for 30% less too.
This sale is for Friday and Saturday only? so be sure to stop by on one of those days?and no coupons are required.?? In fact, Old Navy is so?so sure you?ladies are gonna love the 2-Day Super Sale so much that no new coupons will be available at OldNavyWeekly.com until Sunday.
I was not planning on doing much this weekend but I may go out just to take advantage of this sale.?? I'm sure I will find something fab!
Happy Shopping!