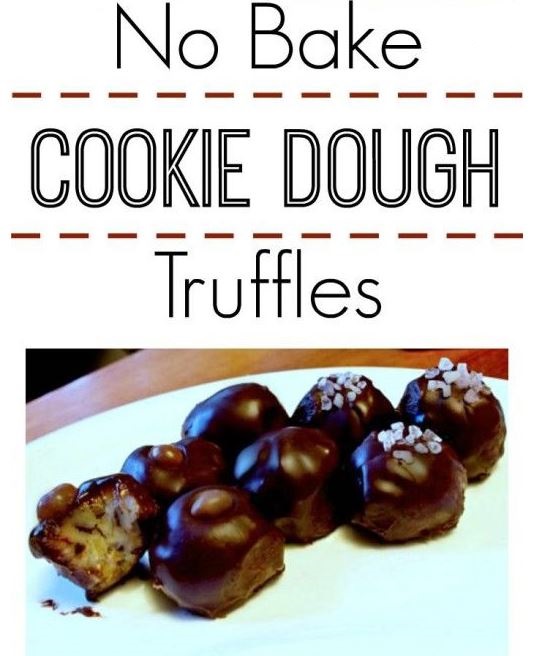 Chocolate chip cookies are probably one of my favorite treats, but I probably love the dough just as much!? If you love raw cookie dough you will FALL IN LOVE with these! ? Fortunately I?m going to show you what is going to become your favorite no-bake cookie dough truffles recipe!
This recipe is really fast and you only need a few ingredients. The good thing about it is that you can have this recipe as a base and start adding any flavor you want. Imagine some cookie dough truffles with Oreos or with some peanut butter? Yes, we want like a hundred of those.
If you can?t wait until you make the truffles, don?t worry, take a spoon and eat the dough from the bowl.. and smile!
What do you need?
1. 1/3 cup of butter, softened
2. 1/3 cup of brown sugar
3. 3 teaspoons of vanilla
4. 1 cup of all purpose flour
5. 1 cup of chocolate chips or chunks
How to make them?
1. Combine the butter, sugar and vanilla together
2. When the mixture is creamy, start adding the flour.
3. At the end add the chocolate chips or chunks and any other ingredient that you want.
4. Let it rest in the refrigerator at least 1 hour before making the balls.
5. After that hour, start making balls with the dough. You can make normal truffles with a half tablespoon measure or jumbo ones with a tablespoon measure.
6. Let them chill in the refrigerator 1 hour more and after they?ll be ready to serve
If you want to make something a little bit fancier, you can dip the truffles in chocolate and add any topping that you want. What about some cookie dough truffles dipped in dark chocolate with a sea salt topping? Yumm, yumm you?re going to love them!
What combination would you make?
Could you wait until the truffles are ready or you rather take the bowl and a spoon?
Enjoy!!!!