Choosing the right pair of running shoes is important.? If you are running for the first time or haven't ran in a long time, then you need to make sure you have the correct fit for your foot type.? You will come across lots of running-shoe brands and styles on the market and it can be a bit overwhelming, so just be sure you focus on finding a pair that suits the shape of your foot and your running style rather than the logo stitched on the side.? If you follow that rule, I'm sure you'll find that perfect shoe for you.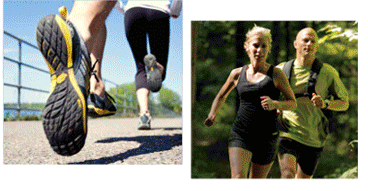 While doing my research, I came across so many options, but one type of shoe in particular, kept coming to surface.? It's called a barefoot shoe so I was curious to see what all the hype was about.? From what I gathered, ?Barefoot Shoes? are shoes that embrace the benefits and philosophy of barefoot walking and running.? Some people also call these types of shoes minimalist footwear.? I found this to be interesting? so I read up on the benefits wanted to give them a try.?? So courtesy of the folks over at Planetshoes.com, my husband and I had the opportunity to try out a pair and you can see what we thought below.
For Her:? Merrell Dash Glove
The Merrell Dash Glove barefoot running shoe for women? allows you to run, naturally? connecting you to the earth and your unique natural stride. They are made of synthetic leather and mesh, have reflective details on it for visibility and is machine washable.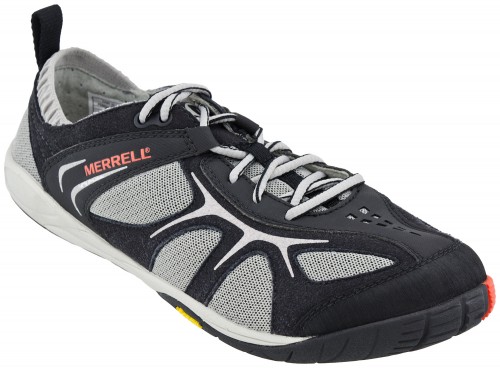 Sine I have been wanting to start running for some time now , I was excited to try out a pair of the Merrell Dash Glove barefoot running shoes. My first thought upon seeing them was…well what's so special about these?? I figured only time would tell but I immediately fell in love with the fit.? They actually fit like a glove but without all the extra padding and so very light.? I was amazed just how light this shoes is and since it is so lightweight I figured there wouldn't be much support.? I was wrong… because the the foot support is actually pretty good.
However, after trying the shoes out for a few days, I quickly learned that maybe I should have tried more of a transition shoe? like the Women's Barefoot Bare Access Arc? for beginners. ? This probably would have been a much better start for someone like myself? who wants to take it slow. Just so you'll know, the Merrell Dash Glove is a true barefoot and since I jumped right into it,? I experienced crazy lower leg soreness for a while. ? Running in a barefoot shoe is very different from running in a regular sneaker and I learned this very fast.? I took it slow for next few days and gradually the soreness subsided.? Now I wear them with zero soreness.? So I would suggest that in the beginning to just take it slow and you will be fine!? Now that I'm adjusted, I actually love them and can now see what all the hype is all about.? They even come in an array of jazzy colors in which I love.
For Him:?? Merrell Sonic Glove
If? your guy is into cross training,? the minimalist Merrell Sonic Glove shoe is probably a good pick that would stand up to his adventures, providing close-to-the-ground protection and a precise, foot-hugging fit. This men's barefoot features a textile upper for breathability, a microfiber footbed treated with Aegis antimicrobial solution to resist odor and provides a precise, glove-like fit.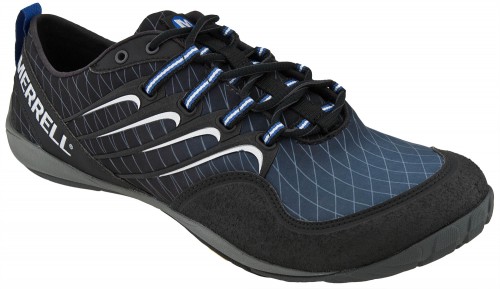 My husband is a past athlete from his high school and college years, so he has done his share of running and cross training.? So unlike me, he knew more about what he was looking for in a shoe than I did.? Even before I took the shoes fully out of the box, he mumbled " Theses are going to be some good shoes!"? Already familiar with the Merrell brand and barefoot style shoes, he somehow knew what he was getting into.? His motto has always been "less is more" and when it comes to the Merrell Sonic Glove, I totally agree.? He loved his pair just and much as I did mine.? For him, the breathability of the shoe was his favorite feature. I love the microfiber footbed treated with an antimicrobial solution to resist odor. And if you ever smelled a pair of his sneakers, you would know why.
Another plus when it came to this shoe is that it actually came in his size.? We were actually pleased that they came is his size 14 and accommodated his big footed needs.? It is not always easy to find shoes in much larger sizes.
In Conclusion
For my first pair of barefoot /minimalist type shoes, I must say that I am pretty pleased.? They have proven to be a step up, in? my opinion, compared to traditional type running shoes and I am sure I will have more to report as I continue with my wearing and getting more into a running routine.? Maybe I will get the chance to try out another pair and have something to compare it to.? But for now, what I can reiterate about the barefoots is that we both agree on the incredible comfort of the shoes.? They could be used as an all-purpose, casual, walking, running, trail running, or hiking shoe.? I like that they are? multi-functional and well designed with much comfort.? I also like that they provide that barefoot feel. The shoes are quite attractive as well.? Both the men and women styles come in an array of colors which is plus.? My husband noted that for the men shoes in particular, he was pleased that he could get a pair of shoes that wasn't needlessly bulky and ugly.
These shoes have turned out to be really fun for me.? I love wearing them and working out and walking is much more fun.? I am also motivated to continue moving my way up to running more.
PlanetShoes.comhave a variety of bargains on name brand shoes for men, women, and children so be sure to check them out and look for special coupon codes for extra discounts on their line of shoes.
Disclosure:? A pair of Merrell running shoes was provided to me and my husband for the purpose of this review.? No other compensation was received and all opinions are mine.