Buying Christmas presents is rather expensive, don't ya think? While it's expensive, I still like to buy gifts for the people I love but there is this thing called a budget that cuts into everything I like to purchase. There is one place that I am rather impressed with and that is Family Dollar. I have always been a bargain shopper but since the economy hit a few years ago, I have really tried to be on the creative end of gift giving.
It's nice that I can go to Family Dollar and actually get REAL gifts. Some "dollar stores" have gifts but they break within minutes. Family Dollar actually has quality gifts that are a LOT cheaper than other retail stores. My husband has wanted a digital hand held  camera for quite some time now. He loves to record our kids on a daily basis but it takes up too much space on our digital camera. He doesn't know this yet but I purchased a nice hand held camera for less than 25$. That was a major steal because you cannot find these video cameras for that cheap, anywhere.
To give you an example of just how great the deals are, here are a few other items you can score at our local Family Dollar.

As I was shopping, I managed to pick up a few toys for the kids and some clothing for just under 5$ apiece. I was able to get something for everyone on my list for the fraction of the cost elsewhere. If you keep an eye on their ad every week, you will notice how thoughtful each ad actually is. They do not just slap a bunch of toys on there to advertise. Instead, they have a nice layout so you can see exactly what you are looking for as you shop.
If you plan on shopping there make sure to check out their weekly ad online. I also get mine in the newspaper, so it makes it easy to shop.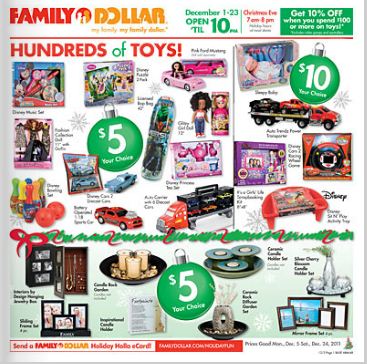 You can also get Family Dollar coupons and print them out to take with you! If you want to keep up with all these amazing deals, then make sure to check Family Dollar out on Facebook and Twitter.
"I wrote this review while participating in a blog tour by Mom Central Consulting on behalf of Family Dollar and received a gift card to facilitate my review and a promotional item to thank me for taking the time to participate."