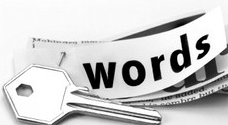 One of the biggest questions I receive each week from online business owners is :
"How do I find keywords that are going to bring in the most traffic to my site?"
Since I'm known to give out tips here and there about internet/SEO marketing, I wanted to finally do a quick write up on how to effectively research keywords for your site . I promise to try to make this an easy read. I don't want to overwhelm you with my very first tip here : )
My #1 Little Keyword Research/Ranking tip can double or even triple your online business!
When website owners think about the keywords they want to start getting traffic for from Google, Yahoo and Bing.  They tend to think about very broad , straight to the point keywords. Most of those keywords are one word keywords or even two word keyword phrases. These keywords are usually what SEO specialist like to call "Your Money Keywords" and they could be that and then some if you rank in the top positions for those keywords.
You can get thousands and thousands of visitors to your site for your one or two words phrases once you rank on the first page for them,  which is AWESOME! RIGHT???? But what happens when that one or two word keyword isn't producing any sales??? UH OH!!!
And herein lies the problem that most online website owners make. They tend to go after keywords that send a lot of traffic to their site but totally do not realize that those keywords that are generating a lot of traffic are usually searched by what I like to call "Browser Shoppers". These "Browser Shoppers" are just like "Window Shoppers". They have no real intentions on buying anything. They are….. just browsing.
"Now let's see a show of hands!" : How many of you would rather have 20 buyers to your site than thousand's of "Browser Shoppers"?
I'm quite sure you would rather have actual buyers that is assuming that most of you raised your hand!?
Wouldn't it make more sense to go after keywords that are going to give you actual buyers than tons of traffic?
I know you've been waiting and asking yourself : "WHAT IS THE SECRET!?"
The secret is…… Go after keywords that are going to send you traffic that will convert into sales.
These keywords are usually very specific keywords. Keywords that include colors or sizes etc. Keywords that are more detailed. Here is an example of what I am referring to:
Very Broad Keyword : Baby Shoes
Very Specific Keywords : black and white baby shoes
Someone who is very specific in their search is more likely to purchase that product from you than those that are just searching for a very broad product. Now I am not saying that those who are searching for two word phrases are not True buyers. What I am saying is that when you target specific keywords throughout your site and especially within your product's meta title and descriptions, you can increase your chances of converting your traffic into sales.
BONUS TIP!!!
If you target very specific keywords on your site or what are called "LONG TAILED KEYWORDS". You have a better chance of getting to the first page of the search engines much faster for those phrases because they will most likely be less competitive : )
There are many ways for you to research your keywords and tons of software to buy to find the best keywords for your site.
The one I always recommend that is absolutely FREE to use , is Google's very own keyword tool. You can find it located at the link below:
Google will allow you to get up to 100 keywords when you enter in a main keyword. You can get way more if you have a Google account set up! If you do have an account set up, just sign into your account to get a larger list of keywords.
I hope you enjoyed My #1 Tip as much as I enjoyed writing it for you : ) Make sure to stay tuned for my next post on how to properly optimize your site with the keywords you have researched.
Wishing you a successful journey to the top : )
Carla Phillips
http://myseogal.com